Zimbabwe, being a South African country has been underrated since the  basket name flashed out. The late Robert Mogabe ruled the country for over 30years and could not achieve his goal as every South African accused him for chasing their colonial masters out from the country.
The only African Country that has over 70% of its citizen fleas out from the country is Zimbabwe due to it political crisis.
Zimbabwe does have it own currency which is making the county's financial status poorer and many banks have close down yet not recovered even under the new president H.E. Emmerson Mnangagwa who is also a member of the ZENU-PF.
Yet Zimbabwe can boost of a beautiful and well structured Capital city Harare which can be compared to some of the European country's.
Zimbabwe happens to be the only country that has almost all the African leaders named after their streets in Harare. Talking of Dr. Kwame Nkrumah from Ghana, Mandela From South Africa etc.
Watch the video below and Zimbabwe will shock you with their beautiful environment and their business centers that will actually encourage you of invest in the country.
WATCH THE VIDEO BELOW:
CLICK HERE TO DOWNLOAD PRESS RADIO MOBILE APP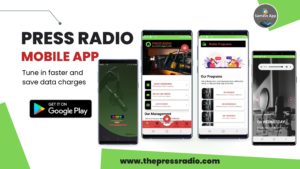 Source: Thepressradio.com