Watch how 4-year-old demonstrates the accurate use of fire extinguisher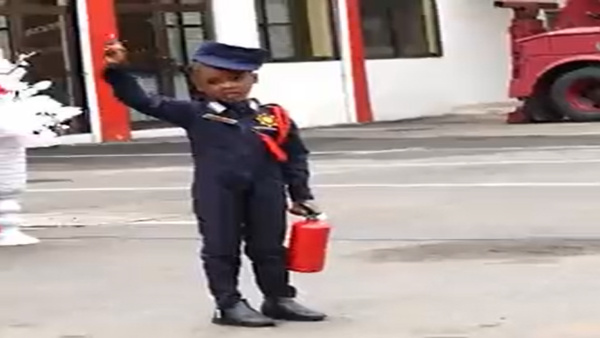 In an inspiring display of skill, a remarkable 4-year-old prodigy took the stage at the Ghana National Fire Service headquarters to demonstrate to the audience the accurate and proficient use of a fire extinguisher.
The 4-year-old, Janel Asantewaa Asante, stole the spotlight with their exceptional performance on how to use a fire extinguisher in case of a fire outbreak.
She exhibited confidence and precision that left the audience astonished. It also showcases the importance of early education and hands-on safety training for everybody.
Dressed in a specially designed miniature safety uniform, complimented with a child-sized fire hat, Janel Asantewaa Asante stood before the crowd and walked the audience through a step-by-step process in handling a fire extinguisher.
"When using the fire extinguisher, remember the acronym PASS. P means pull the pin. A means aims at the base of the fire. S means squeeze the liver. The other S means sweep the extinguisher across the base of the fire.
"The helmet is used to cover our head from falling debris when fighting fire. The fire man axe is used to gain forced entry. The fire extinguisher is used to extinguish small fire at the initial stage. The safety boot is used to protect our feet when fighting fire. The branch is connected to the holes to regulate the flow of water. We have two types of branches, the diffusor branch, and the standard branch," the little girl explained to the audience," she demonstrated.
She went on to say, "So whenever there is a fire don't forget to call 112 or 192. Avoid prank calls Fire Safety."
After her performance, she gorgeously matched to join her colleagues.
Parents, educators, and safety experts present at the event were left in awe at Janel Asante's impressive performance and display.
Source: www.ghanaweb.com