Watch: Detailed video of why Victor Osimhen wears a protective mask resurface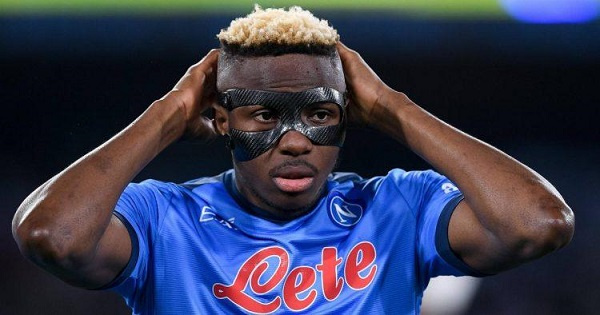 Napoli's talismanic striker, Victor Osimhen, has been a standout performer for the Italian club, leading them to success in both domestic and European competitions, Soccernet.ng reports.
However, one aspect that has intrigued fans and observers alike is his consistent use of a protective mask on the pitch long after recovering from a head injury.
The incident that sparked this unique addition to Osimhen's on-field attire occurred during a Serie A match against Inter on November 22, 2021.
The Nigeria international suffered a significant eye socket injury, leading to an urgent need for surgery, which the recovery process forced him to sit on the sidelines for three months, battling the facial problem.
Although Osimhen made a triumphant return to action on January 17, 2022, he continued to wear the protective face mask as a safety measure.
Napoli's team doctor, Roberto Ruggiero, clarified the situation, stating that Osimhen was indeed fully healed but opted to continue using the mask for a sense of security.
Dr. Ruggiero provided insight on Osimhen's choice to keep the mask in an interview with Radio Marte at the end of the previous season.
"Osimhen is perfectly healed, he's still wearing the protective mask because it gives him a sense of security, but he's healed." he said.
The doctor further explained that Osimhen has found his balance and comfort with the mask, choosing to wear it willingly. Dr. Ruggiero also expressed hope that the mask would remain on until the striker felt entirely confident in its removal.
Despite the mask, Osimhen showcased his immense talent, making 32 appearances for Napoli during the 2021-22 season and scoring an impressive 18 goals across all competitions.
The current campaign has been even more prolific for the Nigerian sensation, who has led Napoli to the summit of Serie A, leaving defenders in awe with his performances.
Osimhen's mask has become his trademark in Naples and beyond, with fans worldwide embracing the unique accessory, with replicas of the mask adorning supporters during matches.
While the mask's mystery may have aroused interest, Osimhen's self-assurance and ease on the pitch are more crucial.
As long as he plays well for Napoli, his decision to wear the mask is a testament to his tenacity and resolve, motivating both his teammates and the fans around the world.
WATCH Our latest Episode with Kennedy Agyapong in South Africa below:
Source: www.soccernet.ng