'Was Mr Drew drunk when he was signing Kaywa's contract?' – Attractive Mustapha asks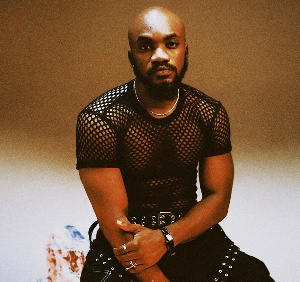 Ghanaian blogger and journalist, Attractive Mustapha known in real life as Andre Mustapha NII Okai Inusah has asked if musician Mr Drew was drunk when he was signing his contract with Kaywa's Highly Spiritual management team.
He asked such a question in an interview with Today's Radio, based in Kumasi with Grandmaster Murphy on the recent statement made by Mr Drew that he would not have signed the contract with 'Highly Spiritual' if he had a lawyer.
Attractive Mustapha said that so far as the artiste was not drunk or under any form of duress when signing the contract, there is no big deal here so Mr Drew should cut the rants and excuses.
He added that at Mr Drew's age, he should know there is something called logical reasoning and that one does not necessarily need a lawyer to always take reasonable decisions.
"I know Mr Drew very well from when he was coming up and he was very humble and talented. At that time he wanted to get attention so obviously he hurriedly signed the contract. Today he has it and thinks the same contract he signed that made him famous is bad".
"What he's refusing to know is that he wouldn't have been Mr. Drew that we are all talking about today if not for that same contract he claims to have regretted signing", he said.
Mr. Drew days ago expressed regret for not seeking legal advice before signing his contract with Kaywa's Highly Spiritual.
In an Instagram live session, Mr. Drew acknowledged Kaywa's unwavering support for his talent but admitted that if he had consulted with a lawyer at the time, he would have rejected the contract.
He also said he realized not having legal representation was his only mistake, as he failed to identify certain loopholes in the agreement.
WATCH Our latest Episode with Kennedy Agyapong in South Africa below:
Source: peacefmonline.com