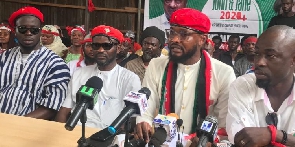 Some members of the opposition NDC in the Asawase Constituency of the Ashanti Region are up in arms against their Member of Parliament and Minority Chief Whip Muntaka Mubarak.
The group which calls itself the Concerned Members of NDC accuses the lawmaker of attempts to divide the party and fuel tensions in the area.
This comes after an attempt by the police to arrest the Constituency Chairman Faisal Dauda to assist in investigations into a case of assault, was resisted by an angry mob over the weekend.
"These police personnel created an ugly scene pushing [our] chairman as a commoner and this is bad. If the teeming youth respond in equal measure I don't think Asawase would be safe", said Umar Harris, who addressed a press conference on Monday, January 9.
"Asawase is a safe seat for the NDC. Whoever is elected after the primaries he will win the parliamentary elections. And our Chairman has assured us that he will lead a campaign to appreciate the votes of our presidential candidates. And so no amount of intimidation will take him off gear and the delegates are behind him".
The crux of uneasiness stems from recent events that rocked the constituency when Dauda made a bid to unseat his immediate-past Chairman in a fierce contest — a move that did not sit well with some interests, including the MP.

"Asawase does not belong to the MP. But it is sharply divided under his leadership and that is a fact. And that is why we are appealing to the Functional Executives Committee to intervene at the right time so that we can start a reconciliation process and move on", Harris said.