Reactions as Drake flaunts bras thrown at him during tour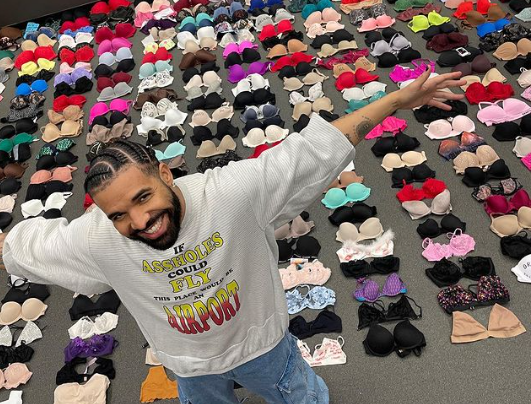 Drake has amassed a collection of bras that would rival Victoria's Secret.
The "Rich Flex" rapper shared a photo on his Instagram this week with a big smile and his arms spread wide in front of hundreds of bras of different styles, colors and sizes laid out on the floor like a lingerie store.
"Remember when we both forgot who the f— I was in unison…that wavelength was def a foolish one," he captioned the post.
Rapper Jeleel commented, "bruh got a library full of bras." BNYX joked, "Praying for dude that had to lay these out. they're organized by size."
"Went from it's All A Blur to It's All A Bra tour," another joked, while singer Nelly Furtado suggested the bras are "Way more fun than my stuffed animal collection."
A since-expired Instagram story video showed two team members taking all of the bras out of a bin before they were neatly arranged.
In July, the "Hotline Bling" singer joked at a show he was "deeply disappointed" no one had thrown a bra at him, saying he needed a couple on stage to prove he's "still got it."
"I would just like to say before I go onto this next song, this is the first stage where I don't have no bras, and I'm deeply disappointed," the rapper teased the audience in a viral video taken by a fan.
"But don't start throwing shoes and phones and s—," the 36-year-old added, referencing the dangerous new trend of audience members hurling heavy objects at performers.
At a Chicago show in July, Drake was hit in the arm by a cellphone. He didn't appear to be injured and continued with his performance after briefly looking down at where he was hit.
Bebe Rexha suffered a black eye after a man allegedly threw a phone at her during a show in June. The fan was charged with misdemeanor assault.
Drake added at the show, "If you got a bra, though, just let me know that I still got it 'cause I feel like I might be having a bad show or something. I didn't see no bras tonight."
Source: mynigeria.com