The Obiss Foundation visits some schools in underserved communities to donate to underprivileged students.
The team, which was led by the organization's founder, Mr. Bismark Okraku, visited some selected schools to give some pupils in underprivileged areas school uniforms, bags, sanitary pads, and stationary.
Even though the journey hasn't ended yet, the foundation is willing to visit more schools in the deprived communities to support students so they can have a comfortable mind to study.
Speaking, Mr Bismark said that it's the main objective of the foundation to support the less privileged in society, and they have proven that over the years.
He continues to assert, however, that he was once a child of circumstances, and he knows how it feels for a child to go to school without learning materials.
He also expresses gratitude to the social media community for their tremendous support and contribution to this wonderful initiative that aims to provide less privileged students with a comfortable environment in which to study.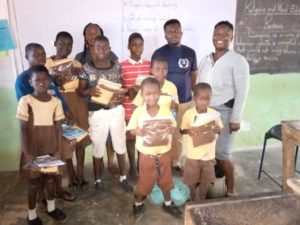 Source: Obiss Foundation| Ghana