MCE Noble Awume recounts harrowing experience amidst Hohoe clash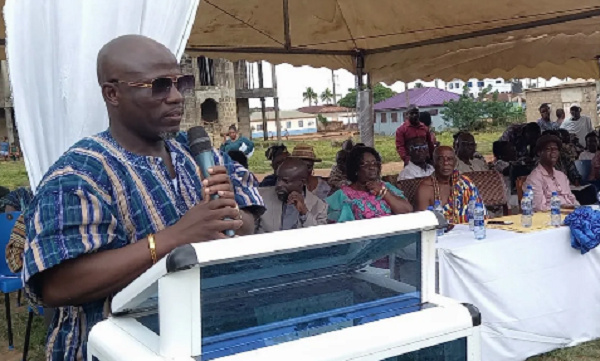 In a recent incident that claimed the lives of two Hohoe indigenes, Municipal Chief Executive (MCE) Noble Awume has shared his heart-stopping ordeal, finding himself caught between furious youth and heavily armed police officers.
Approximately a week ago, Hohoe's youth clashed with the police following an incident where a police patrol vehicle collided with a motorbike ridden by an individual suspected to have been carrying marijuana.
The enraged youth retaliated by setting the patrol vehicle ablaze. Later that day, police officers descended on the community, arresting young men and reportedly looting shops while torching numerous motorbikes.
Indigenous residents have expressed their growing concern over police brutality in the area, deeming it an alarming recurring issue that must be urgently addressed to restore tranquility.
Noble Awume, who had been at the forefront of efforts to maintain peace on that fateful day, recalled the perilous situation that had placed his life in jeopardy.
He emphasized the gravity of the moment, stating, "As the confrontation grew more heated, it seemed that violence was inevitable. The youth, incensed by past injustices, refused to back down, and the police, wary of potential chaos, stood their ground. The situation hung by a thread, and it was at this critical moment that I realized my life was in great danger."
Attributing his survival to divine intervention, Awume emphasized that this near-tragedy marked a turning point in the clash between the youth and the police, underscoring the urgent need for dialogue and reconciliation.
"It was only by the grace of God that I was not shot because the situation was harrowing and terrifying to the extent that I thought I was going to die too," he remarked.
Awume acknowledged that tensions between the youth and the police had been simmering for some time, fueled by misunderstandings, mistrust, and mounting frustration.
It was during this particularly tense protest that the situation escalated to a breaking point.
The MCE remains steadfast in his commitment to ensuring that Hohoe will never again teeter on the brink of potential catastrophe.
He is determined to bridge the gap between the police force and indigenous residents, with the aim of preventing a repeat of last week's traumatic events.
He counts on the cooperation of stakeholders and opinion leaders in this endeavor.
Awume acknowledged that the clash between the youth and the police will forever cast a shadow over Hohoe's history.
However, he also believes it serves as a powerful lesson in the resilience of the human spirit and the transformative power of grace and forgiveness.
Source: www.ghanaweb.com