Man jailed 10 years for defiling his ten-year-old step-daughter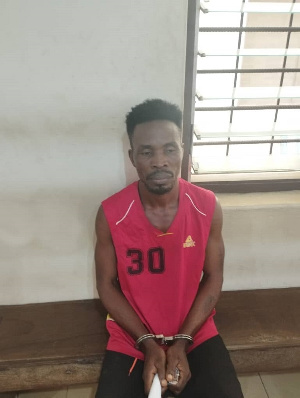 A Circuit Court at Odumase-Krobo in the Eastern Region has sentenced Felix Kovi, a 36-year-old mason to 10 years imprisonment wit hard labor for defiling his 10-year-old step-daughter.
Kovi pleaded guilty to a charge of defiling a minor contrary to section 101 of Act 29/60 as amended by section 11 of Act 544/98.
Prosecuting, Detective Chief Inspector (D/C Inspt.), Daniel Apedo told the Court presided by Kwase Apiatse Abaidoo Esq., that the complainant, a 23-year-old trader, was the biological mother of the victim, while the victim (name withheld) was a class one pupil of the Sekesua Presby Primary School.
The prosecutor furthered that the victim resided with her grandmother at Osonson, a village near Sekesua while the convict lived together with the complainant at Sekesua as a couple.
Detective Chief Inspector (D/C Inspt.), Daniel Apedo disclosed to the court that sometime in July 2023, the victim visited her mother and her stepfather but met her mother's absence.
He furthered that Kovi then convinced the girl to stay with him for a few days to await the return of her mother to which she obliged.
The convict then took advantage of the situation and forcibly had sexual intercourse with the victim on four different occasions and threatened her with death if she disclosed the incident to anybody.
However, the complaint upon her arrival a few days later noticed changes in her daughter's walking manner, and upon interrogation, her daughter disclosed her ordeal to her.
A complaint of defilement was subsequently filed at the Sekesua Police Station where an Extract of Occurrence was prepared and brought to the Domestic Violence and Victim Support Unit (DOVVSU) of the Ghana Police Service at Asesewa for assistance.
A police medical report form was issued to the complainant in respect of the victim for observation at the Asesewa Government Hospital.
D/C Inspt. Apedo stated that the convict was subsequently arrested where he admitted the offence in his interrogation caution statement and was subsequently dragged to court.
Source: www.ghanaweb.com