LIVE UPDATES: Police stop #OccupyJulorbiHouse demonstration, arrest several protesters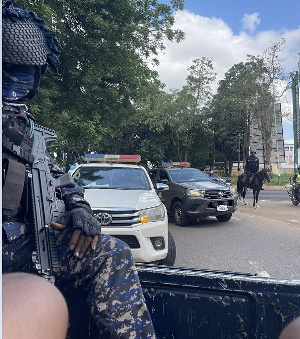 The
Ghana Police Service
 have begun the arrest of several protesters seeking to participate in an anti-government protest dubbed; #OccupyJulorbiHouse.
The development comes after the police refuted claims that it failed to duly serve an injunction application on conveners of Democracy Hub, the organisers of the protest.
The police personnel which are said to be over 400 in number are taking the protesters to the Accra Regional Headquarters of the police.
Reports say over 350 protesters including organizers of the Democracy Hub group are currently in police custody for defying a police order with regard to a court injunction placed on the planned demonstration.
Meanwhile, some social media users have taken to various platforms to condemn the Police and government for arresting the protesters who believe they are exercising their right to protest.
See the updates below:
Source: www.ghanaweb.com