Late Alaafin of Oyo ex-wife, Queen Dami reportedly in a relationship with Portable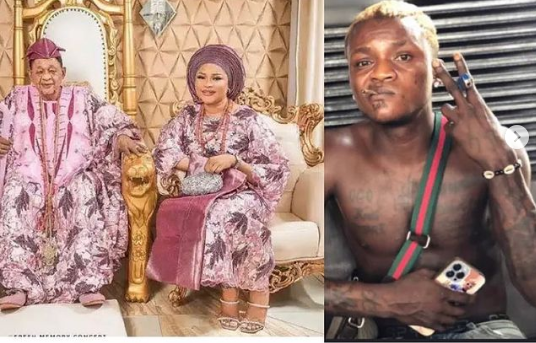 According to reports, late Alaafin of Oyo wife, Queen Dami, is currently in a romantic connection with spectacular artist, Portable.
Recall that a few months after the Alaafin of Oyo passed away, Queen Dami participated in Lege Miami's dating live session, where singles are matched in the hopes of finding a compatible man.
Queen Dami was made fun of by Lege for attending his live session to look for a husband. He disrespectfully criticized her desperate hunt for a husband and her dress as he introduced her to the crowd.
In a recent development, Gistlover claimed that Portable and Queen Dami are currently involved in a committed relationship. Their connection is an open secret, the blogger claims.
WATCH Our latest Episode with Kennedy Agyapong in South Africa below:
Source: www.gistlover.com