ix people are reported dead after a torrential rainfall at Esereso Adagya Zoomlion in the Asokwa Municipal in the Ashanti region Thursday night, in an attempt to cross a collapsed bridge.
Five bodies have been retrieved by the residents of the community after a failed attempt from the Ghana National Fire Service (GNFS),from the Ankonim River this morning after a vehicle in which they were travelling was swept away by strong currents.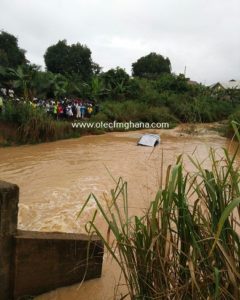 The body of a sixth person believed to be the driver of the vehicle cannot be found.
According to OTECNEWS' reporter Obaahemaa Cindy, the family of six were driving through flooded streets at Adagya Thursday, September 6, 2018, evening after heavy rains when the vehicle was dragged into the choppy river.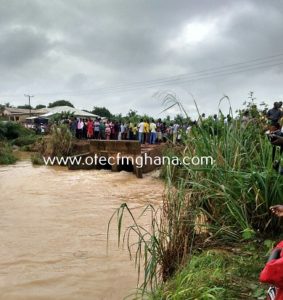 Reports say, the Ankonim River overflowed its banks after the heavy rains and blocked the only access route leading to the residential areas.
The family was trapped in the saloon car for many hours before rescue workers arrived, including the the National Disaster and Management Organisation (NADMO), the GNFS and the Ghana Police Service, but their effort were fruitless in the whole night, Obaahemaa Cindy reported.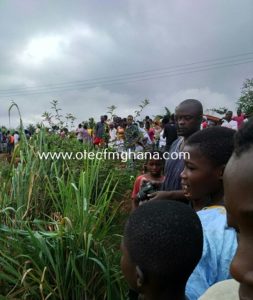 "Police are here with a pickup vehicle but there are no rescue workers and there are no heavy equipment to remove the [trapped] vehicle. I understand the fire service team came here but left," she described the scene before the bodies were retrieved.
The deceased are members of the Jehova's Witness faith who had closed from construction works on a new Kingdom Hall project in the area and were on their way home in a saloon vehicle when the incidence occurred.
Police and personnel from the Ghana Fire Service spent hours trying to locate the vehicle and its occupants in the river.
Assembly Member for the Adagya Electoral Area, Emmanuel Adams, who was at the scene spoke to OTEC FM and blamed the accident on the broken bridge.
According to him, countless appeals from residents for the bridge to be fixed have gone unheeded to.
Source: Ghana/otecfmghana.com