How a lecturer's prolonged leg swelling led him to find out his kidneys had collapsed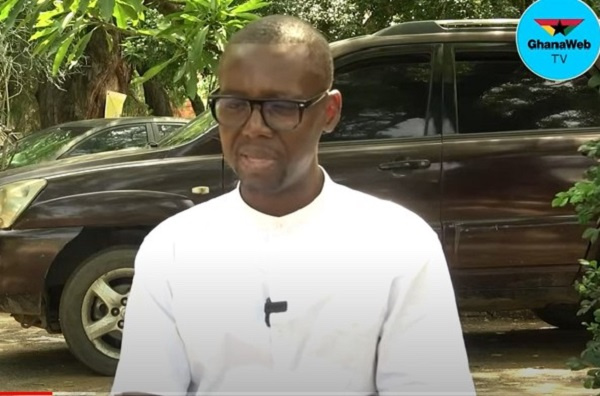 This article was first published on Monday, July 24, 2023, but with the ragging subject on kidney failure and the rising costs of dialysis across the country, GhanaWeb brings back this interview of a lecturer at the Ghana Institute of Journalism, Philip Atawura:
For 2 years, Phillip Atawura, a lecturer at the Ghana Institute of Journalism, had ensured that everything he could do to keep this matter of his health condition private was done.
In fact, as he told Daniel Oduro, host of The Lowdown on GhanaWeb TV, only a close circuit of people knew the vast amount of ordeal he was going through in that period, until now.
Speaking for the first time publicly with GhanaWeb TV, Phillip said that it had to take months of countless tests and moving from one health facility to another to finally get diagnosed with a kidney failure.
He recalled the day it all started for him, and how he ignored the initial signs because, for the greater part, all of that seemed like a normal thing.
"I actually don't know what caused it initially, but what made me to seek medical attention was as a result of oedema; the swelling of the feet. So, after school one day, I realised I had developed swollen feet but I thought it was one of those things but by the time I rest, wake up the next day, I should be fine, but I woke up the next day and the fluid was still there.
"A second day came and the fluid had not gone down yet. I then spoke to a friend who is a pharmacist, but when I was speaking my friend, he was asking about my blood pressure and all of that. And, he was thinking it had something to do with my pressure but he advised that I see the doctor after that. He gave me some ointment to apply and that was it," he said.
He added that, "So, I went to the hospital, popularly called Acaway, at McCarthy, and that was when they started diagnosing, but even as the time, it was not seen as a kidney problem; it was seen as a heart issue. So, I did a lot of chest regional tests, x-rays, and other stuff because I was getting tired quicker. My energy levels dropped; I couldn't do 5% of the kind of activities I used to do, so, the concern was my heart."
With such inconclusive diagnosis, Phillip Atawura said the doctors who had cared for him all this while decided that it was time for him to seek further medical care, elsewhere.
He explained that this was when he first went to the Korle-Bu Teaching Hospital on the matter.
It was there, and after a few other tests, that Phillip said he got told the hard truth about his diagnosis; his kidneys were at their dying stages.
"I was there for about 2 months on out-patient so the doctors over there said they'd done all the tests they can but they've realised that whatever it is, the side effects is on my heart, but they don't seem to know what it is, and it is not my heart either. So, they referred me to the Korle-Bu Teaching Hospital to see a cardiologist.
"I went to Korle-Bu to see the cardiologist and she also did her tests and referred me to the nephrologist. So, it was at the nephrologist stage that it came out that the result of my kidney function were at the end stage," he explained.
Source: www.ghanaweb.com