To marry your celebrity crush sounds like a dream; however, no one can decide whom they fall in love with.
In interviews, some well-known Ghanaian celebrities have revealed who their spouses were before they became life partners.
Some of these love stories are tales of regular folks catching the eye of their favourite star; some are of equally famous stars who scored dates with their own celebrity crushes.
Scroll to read some of these amazing stories from your favourite icons:
Okyeame Kwame and Annica
Ghanaian rapper Okyeame Kwame, born Kwame Nsiah-Apau, shared a heartwarming story about how he met his wife.
The proud father of two said their journey began after an unexpected meeting at Multimedia Group Limited's subsidiary Luv FM in Kumasi.
In an interview with M'ahy3ase3 with Afia Amankwa Tamakloe, he revealed that he went for an interview at the station while his wife was searching for a firm for her national service.
"It was really a love at first sight situation because immediately I set eyes on her, I knew she was the one and went straight ahead to tell her how I feel about her but she didn't resist being friends for starters.
"She even waited for me to finish the interview, went to drop her at home and even introduced me to her father because she said that was the first time a man had brought her home," he narrated.
As they talked, the wife revealed she had already taken his number from a colleague and planned to invite him to perform at her sister's wedding.
"I don't know if it was just baited to get to me or what but for someone I had never met to tell me she had wanted my performance at a sister's wedding, that was a big deal but we both felt the connection between us and now find ourselves here," he acknowledged.
In addition, his wife admitted that she had already told her mother at age 16 that she was going to marry him.
"We had never crossed paths before but my wife at age 16 had already told her mum he wanted to marry me in the future so this journey is more like a dream come true."
Stonebwoy and Dr Louisa
In an interview with Delay, dancehall artiste Stonebwoy disclosed that he met his wife, Dr Louisa, at the Kwame Nkrumah University of Science and Technology (KNUST) while she was a medical student.
According to the artiste, his wife attended one of his performances at the school as a die-hard fan.
Though Stonebwoy could not recollect the exact circumstances that led to their first meeting, he disclosed that he knew he had met his ideal woman after seeing Louisa.
"I met my wife at the KNUST. I went to play a show there, and I met her after the show. She came to watch me perform, and I can say I married a fan.
"The moment I saw her, I said to myself that she is going to be my wife— which I even told my manager," he disclosed in an interview on the Delay Show.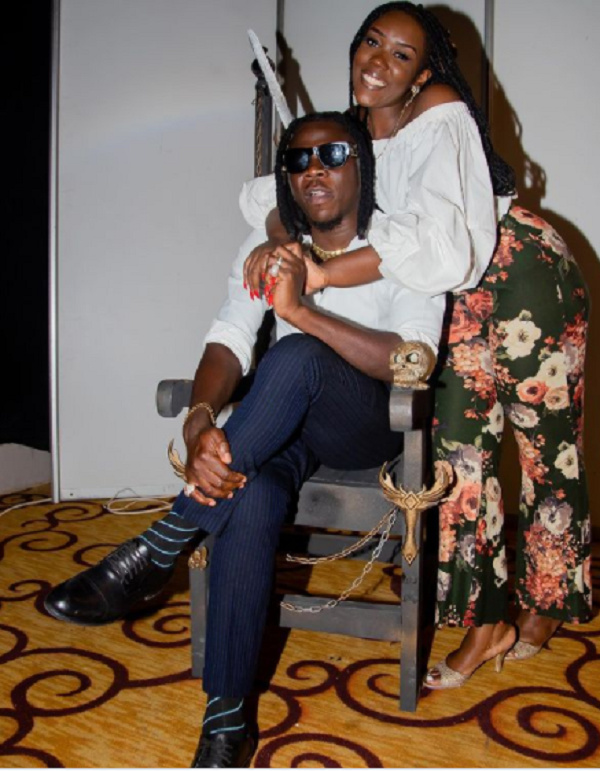 Jon Germain and Nadia Jeong
Ghanaian radio presenter and musician Jon Germain (2018) married his ex-girlfriend's best friend.
Revealing how he met his wife, Nadia, in an interview with Class FM, the presenter said he realised he had something in common with her.
"I was dating her best friend and then I met her and I realised that she doesn't think like any other woman I've met.
"She's totally different, she thinks as I think; anything I see as funny she sees as funny as well and she's on a totally different level and I've never met any woman like her before," he said.

Source: www.ghanaweb.com