George Afriyie visits Bahmed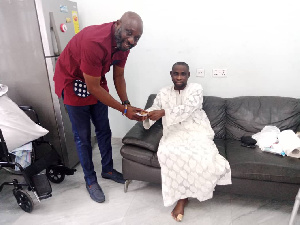 Ghana Football Association (GFA) presidential aspirant George Afriyie has donated an undisclosed cash to Alhaji Ahmed Bandoh popularly known as Bahmed at the latter's residence in Accra.
Misfortune has struck the former Asante Kotoko board member (Bahmed), following the amputation of his left leg a few months ago.
And to the former GFA Vice President, Bahmed's immense contribution to the development of football in the country stirred him to reach out to the former CEO of Bahmed Travel and Tours.
" To say Bahmed has contributed to Ghana football is an understatement. Back in the days he will prefinance trips for our national teams. He has done so well for Ghana football.
"Tomorrow is Sallah, and a typical Alhaji would have done a lot of donations on occasions like these. We heard of his plight and decided to pay him a visit and bless him with this token. I will be here on regular basis."
Bahmed expressed gross thanks to the astute football administrator for the gesture and endorsed his candidature for the forthcoming GFA elections saying, "…you can't talk about good football administration without mentioning names like George Afriyie."
From Bahmed's residence, he and his team paid a visit to Sulley Agbozo, a former worker at the GFA who is currently battling a stroke.
The former Great Olympics , Gamba All Blacks and Susubribi Sporting Club president announced his intentions to contest for next year's GFA's elections early this week.
Source: www.ghanaweb.com