Fetish priest curses traffic officers for taking GH¢200 from him over his new 'Pragyia'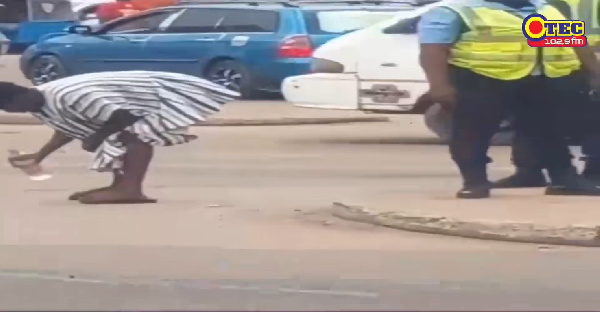 Drama unfolded on the highway of Kronom-Offinso in the Ashanti Region when an angry man rained curses on a motor traffic officer for allegedly extorting an amount of GH¢200 from him.
According to report by Otec FM, the man after pronouncing the curse was given water by some eyewitnesses who pleaded with him to reverse his words.
However, the man who disclosed that he was a fetish priest said he had gone to buy a brand-new tricycle and had been forced by the officer to pay the said amount for not having a registration. He said water could not be used to reverse the curse except Schnapp.
A video of the incident shows the fetish priest in smock surrendered by a number of traffic wardens and an MTTD officer.
He is later seen pouring libation with a bottle of Schnapp in the middle of the road as part of rituals to reverse the curse.
"The wardens who are assistants to the MTTD officer are the ones who negotiated and took the GH¢200 from the priest. So the priest told him I have agreed and paid the GH¢200 because I am truly yet to register the tricycle but make sure you account for the money you have taken from me to the government. If you rather spend it may the gods deal with you," the report said.
Source: www.ghanaweb.com