Family of man cursed by Prophet Azuka threatens to drag him before Otumfuo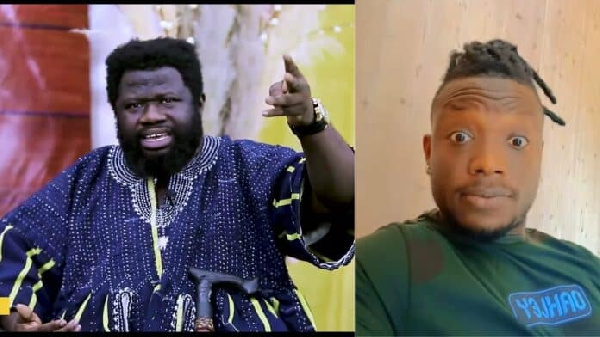 The family of Kofi Pages, a German-based Ghanaian is threatening to drag leader of Shinning Grace Chapel, Prophet Ogya Nyame alias Azuka to the palace of the Asantehene, Otumfuo Osei Tutu II for raining curses on the family and their kinsman.
According to the family, they will seek a summons against Prophet Azuka to justify why he invoked curses against their son and the family.
Kofi Pages during a TikTok live by Prophet Azuka engaged in a sustained banter where he accused the prophet of being a fraud and duping gullible Ghanaians in the name of Christianity.
Incensed by his actions, Prophet Azuka in a subsequent viral video went to a river where he poured libation with a Schnapps and invoked curses on Pages on his entire family.
But speaking in an interview with Oheneba Media, the family including the mother, grandmother and siblings of Kofi Pages said they will seek redress on the matter from the Otumfuo's palace.
"Nobody will come and plead for you. We are serious. For roping the family into an issue, you had with our son you have bitten more than you can chew. It is not every family you can mess with. The entire family will face you at the appropriate quarters for you to know that there are laws in the Ashanti Kingdom…
"You will come and explain yourself to the overlord of the Ashanti Kingdom," his grandmother stated.
Listen to the family of Kofi Pages in the video below:
WATCH Our latest Episode with Kennedy Agyapong in South Africa below:
Source: www.ghanaweb.com