Businesswoman jailed eight years for human trafficking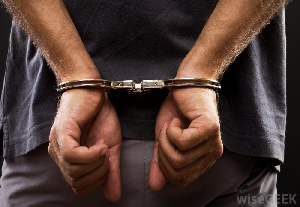 A businesswoman who recruited and trafficked a lady in Ghana to Kurdistan, Iraq, has been sentenced to eight years imprisonment by an Accra Circuit Court.
Beatrice Ofori is said to have received $4,500 and $700 from an agency for the act and promised to secure a seamstress job for the victim, but she (victim) ended up being a domestic servant suffering inhumane treatment.
Charged with human trafficking, Beatrice pleaded not guilty.
At the end of the trial presided over by Christina Cann, Beatrice was found guilty and sentenced accordingly.
The facts as presented by Superintendent of Immigration John Bernard Otoo, were that Beatrice claimed to be a travel and tour operator in Accra.
The prosecution said the complainant was the victim's mother.
It said Beatrice, the victim, name withheld, and the complainant were neighbours and family friends at Klagon in Accra.
On September 13, 2022, the complainant lodged a complaint with the Anti Human Smuggling and In Person Unit (AHSTIP) of the Ghana Immigration Service that she had received a distress call from her daughter whom she had not heard from about 11 months, that she was in slavery in Kurdistan, Iraq.
It said investigations revealed that Beatrice had recruited the victim and transported her to Kurdistan, Iraq, under the pretext of providing her work as a seamstress, but she ended up as a domestic servant under harsh conditions for over eleven months.
The prosecution said when the victim arrived in Kurdistan, she was made to remit $700 to Beatrice and went through inhumane treatment, including sexual harassment and denial of food.
The prosecution said later, the victim managed to get a phone and contacted her mother (complainant) and asked to be rescued.
It said the victim also called Beatrice and asked to be brought back to Ghana.
The prosecution said, "it was at this point that she was made aware that $4,500 was paid on her head through an agency to the accused person".
It said the AHSTIP Unit of the Ghana Immigration Service gave Beatrice one week to repatriate the victim to Ghana as part of her bail condition.
The prosecution said Beatrice purchased a Qatar Airways ticket for the victim and then on September 27, 2022, the AHSTIP Unit of the Ghana Immigration Service received the victim at about 0900 hours at the Kotoka International Airport.
Source: GNA