Talks between the UK and EU over a post-Brexit trade agreement are "over", Downing Street has said.
No 10 said there was "no point" in discussions continuing next week unless the EU was prepared to discuss the detailed legal text of a partnership.
UK chief negotiator Lord Frost said he had told EU chief negotiator Michel Barnier there was no "basis" for planned talks on Monday.
Number 10 said the two sides had agreed to talk again, by phone, next week.
Earlier, EU Commission President Ursula von der Leyen tweeted that the Brussels negotiating team would go to London after the weekend to "intensify" talks.
But Downing Street said there had to be "a fundamental change in the EU's approach to these negotiations".
The prime minister had set this week as the deadline for the two sides to agree a deal, but there are still major disagreements over fishing rights and state help for businesses.
And the UK government appeared to harden up its message to the EU over the course of Friday.
In the morning, Boris Johnson said the country had to "get ready" to trade next year without an agreement, although he did not say the talks were over.
He suggested the EU was unwilling to consider seriously the UK's preferred option of a comprehensive free trade agreement based on the bloc's existing arrangement with Canada.
The UK, he added, must look at the "alternative" – which he suggested was Australia's much-more limited set of agreements with the EU.
As statements go, those four words from the prime minister's spokesman this afternoon were something of a bombshell.
But Michel Barnier, who's due to come to London next week to continue talks, might not be unpacking his briefcase just yet.
There's no doubt that Downing Street is sending the clearest signal possible that it expects the EU to make the next move in these negotiations.
And the rhetoric accompanying the talks has reached a new level.
But both sides still want a deal, the process has not broken down and there is still time to reach an agreement.
It's one thing to declare the talks over; it's another thing to refuse to continue talking.
The PM's official spokesman took a tougher line with Brussels later in the day.
"There is only any point in Michel Barnier coming to London next week if he's prepared to address all the issues on the basis of a legal text in an accelerated way, without the UK required to make all the moves or to discuss the practicalities of travel and haulage," he said.
"If not, there is no point in coming."
He added: "Trade talks are over. The EU have effectively ended them by saying they do not want to change their negotiating position."
The UK and EU had been hoping for a "zero-tariff" agreement to govern their trading relationship once the UK's post-Brexit transition period ends in December.


Brussels 'deeply unimpressed'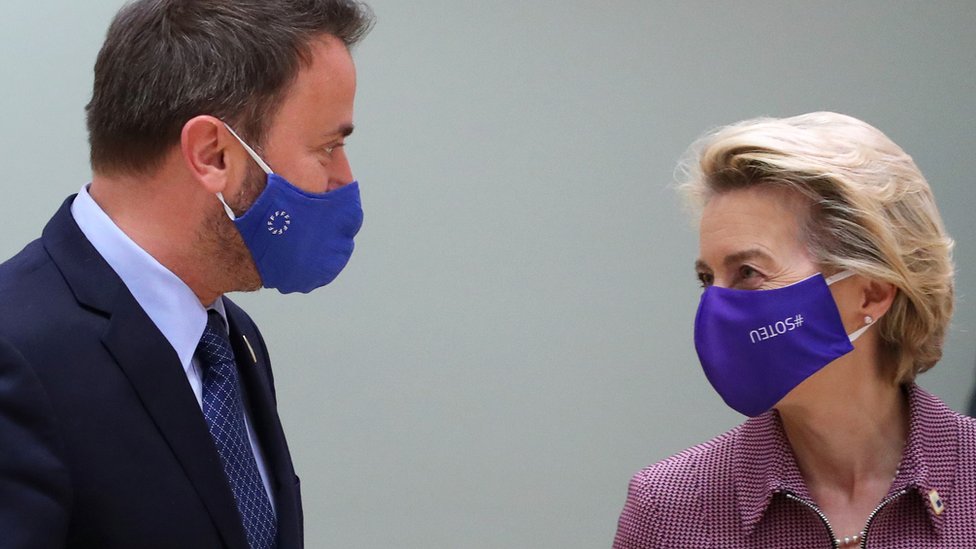 By BBC Brussels correspondent Nick Beake
Boris Johnson's public declaration that the UK should prepare for no deal did not cause great concern within EU circles.
The immediate response came in a tweet from Commission President Ursula von der Leyen who said it was full steam ahead for trade talks next week and that EU negotiators would be getting on their Eurostar to London as planned.
But the subsequent statement from the prime minister's official spokesman – off-camera, but on-the-record – that the "trade talks are over" has left senior diplomats "deeply unimpressed", as one put it to me.
Although "we're getting used to being part of Johnson's pantomime", they added.
Some EU figures fear Boris Johnson still doesn't know if he actually wants a deal and is trying to buy time while be grapples with the Covid crisis.
Following the hardening the British position by Number 10, France's President Macron called on the prime minister to make up his mind, while there was still time.
Many in Brussels remain "cautiously optimistic" some sort of deal can be agreed but any route there is now even harder to see.
Labour's shadow Cabinet Office Minister Rachel Reeves urged the UK government to "step back from the brink" and "stop posturing".
"Any tariffs or any delays at the border will make it harder for goods to flow freely, whether those are foods or medicines," she said.