Bobi Wine asks US, EU to defund Uganda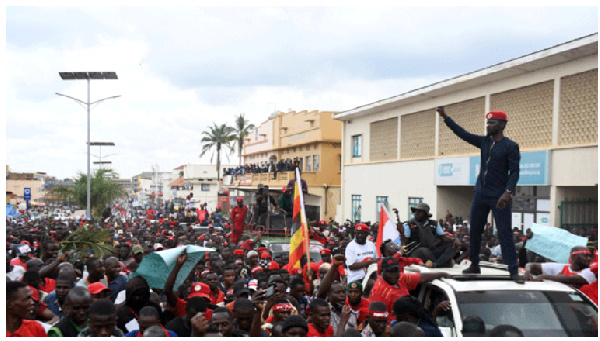 Uganda's opposition and National Unity Platform (NUP) party leader Robert Kyagulanyi, alias Bobi Wine, has urged the European Union (EU) and the US government to stop funding the ruling National Resistance Movement (NRM) government.
Kyagulanyi said the NRM government is using the funds to perpetuate oppression and violence against Ugandans.
"This is a message to the EU and the Americans, we are not asking you to remove and stop sponsoring the dictator," he said while addressing NUP supporters at Busamaga Playgrounds in Mbale City on Wednesday.
"This is the time to put to an end the puppets of neo-colonialism. Museveni is an agent of neo-colonialism. He has turned us into slaves in our own motherland," he added.
The EU, in addition to medium and long-term development assistance, provides Uganda with humanitarian aid through the Directorate-General for European Civil Protection and Humanitarian Aid Operations (DG-ECHO) to the government.
In 2022, the EU allocated $36.4 million (Ush135 billion) in humanitarian aid to Uganda. Since 2017, the EU has supported humanitarian action in Uganda with more than $257 million (Ush956 billion) in funding.
When contacted, the Press and Information Officer at the Delegation of the European Union to Uganda Emmanuel Gyezaho said there is a process the organisation follows when responding to comments made by leaders.
"Send an email because we need to contextualise the comments before we respond," he said.
Efforts to get a comment from Minister of ICT and National Guidance Dr Chris Baryomunsi and Executive Director of the Uganda Media Centre and government spokesperson Ofwono Opondo were futile as the former did not answer our repeated calls and the latter's phone number was off by press time.
Arrival in Mbale
By 10am, several residents had gathered on the roadside in anticipation of the NUP leader's arrival. Many were singing songs in his praise.
When he arrived, the supporters clamoured around his car to catch a glimpse of the musician-turned-politician.
He was then led to the NUP offices on Pallisa Road to officially open the facility.
Kyagulanyi said the reason for his nationwide tour is not to seek votes but to urge the masses to rise up against the ruling NRM government, which has been in power since 1986.
He said the reason security forces haven't stopped their nationwide tour is because President Museveni fears reaction of the international community.
"Last time when I attempted to come here and address you, I was unable to. People must be wondering why we haven't been stopped today by the police beating us and using teargas. We recorded them in the previous election and we went to International Criminal Court. Their arrest warrant is going out anytime from now," he added.
Butambala MP Muwanga Kivumbi urged the public not to get swayed by Gen Muhoozi Kainerugaba, the first son and presidential advisor on special operations.
"Uganda is not monarch. What good can we expect from him after what his dad has done to us? We should vote for change," he said.
Mr. Zaake Francis, the Mityana Municipality MP, said: "We need a peaceful transition and we are going to take over this government without bloodshed."
Source: thecitizenafrican.co.ke