Bawumia employs Kennedy Agyapong's 'showdown' term during an address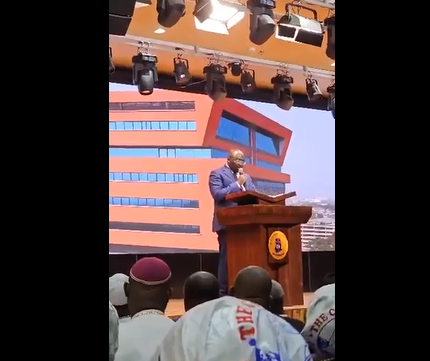 In the current politicking in the country, the use of the term, 'to give a showdown' is easily one that is linked with the Member of Parliament for Assin Central,
Kennedy Agyapong
.
And while this coinage came about from a tense moment during the recent Super Delegates Conference of the New Patriotic Party, ahead of its Delegates Congress on November 4 to elect a flagbearer, the MP has made it his political mantra.
But he has not been alone in the usage of that coinage, but even more interesting is the other person who has used it, in recent times; the Vice President of Ghana, Dr. Mahamudu Bawumia.
Why this is intriguing is that when Kennedy Agyapong first used that word, he referred it to the sitting president, Nana Addo Dankwa Akufo-Addo, and his vice, Bawumia.
Angered by a situation where one of his agents had been allegedly mishandled, the MP was captured in a very angry fit, and on the phone, threatening whoever was on the other end of his phone call.
"President Akufo-Addo, I swear God, I will give you a showdown. Vice president, I will give you a showdown. You've chased away my agent for him to hide in a room, we shall see. You will hear what will happen. I swear God, I will challenge President Akufo-Addo anytime," he was heard saying.
It turned out the situation he was fuming at was a miscommunicated one as the supposed mishandled agent was not one of his, but that of another candidate, Alan Kyerematen.
But in a new video that has emerged online, Dr. Mahamudu Bawumia, whom Kennedy Agyapong had promised to give a 'showdown' to, is heard jokingly employing the same coinage in an address.
In what appears to be an event with the Presbyterian Church of Ghana, the vice president, while making reference to his husky voice, drew in the usage of the word, 'showdown,' causing a momentary reaction in the gathering.
"Even though my voice decided to give me a showdown this morning, I say that the devil is a liar. God bless our homeland Ghana and make her great and strong," he said in what is supposed to be his closing remarks at the event.
Four candidates will contest in the November 4, 2023, delegates congress, following the withdrawal of Alan Kyerematen, a former Minister of Trade and Industry, from the race.
The four candidates, besides Dr. Bawumia and Kennedy Agyapong, are Dr. Owusu Akoto Afriyie, a former Minister of Food and Agriculture; and Francis Addai-Nimoh, a former MP for Ashanti Mampong.
Watch the video below:
Source: www.ghanaweb.com