Bad roads: Ketabusco cries for attention as the school prepares to co-host sports festival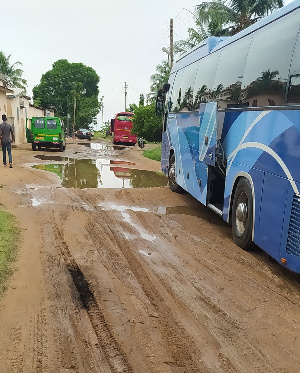 The deplorable conditions of the road leading to Keta Business College (Ketabusco) have become a cause for concern for parents, teachers, and students alike, resulting in an urgent call for local government intervention.
The substandard conditions of the road have not only been causing daily disruptions to the commuters mostly hundreds of students but also pose a safety risk with the possibility of accidents and vehicular breakdowns.
Over the past few months, this critical route to the school has seen an alarming increase in potholes and uneven surfaces rendering it nearly unusable for motorists. As the primary access point to the school, the road's continued decay has caused problems related to punctuality and attendance for students and teachers especially in rainy seasons.
Students and teachers have reported numerous instances of difficulties they would have to go through to use the road whenever it rains. Additionally, students commuting by car, motorcycle, or on foot have had their personal safety compromised because of the risk of accidents, falls, and even potential injury caused by the eroded infrastructure.
Several local residents, including concerned parents and school community members, have had cause to complain about the issue on both traditional and social media for quite some time now, nonetheless, the road remains in a state of disrepair, with no concrete steps taken for its improvement and rehabilitation.
As the school prepares to co-host the Southern Zonal Sports Festival that will feature all 10 Senior High Schools in the Keta Municipality and the Anloga District from 2nd to 8th July, authorities must prioritize the reconstruction and rehabilitation of the road in question for the safety and well-being of the school community.
This road when worked on will add to the credentials of the government as one which prioritises the development of talents as it will provide easy transportation for the young sportsmen and women during the festival.
The lack of action taken thus far represents a failure to invest in our future generations, and the swift resolution of this issue must be made an immediate priority. It is the expectation of the school community and local residents that this clarion call will attract the attention of the local authorities and most especially, the Minister responsible for Roads and ways so that this issue would be dealt with the utmost speed it deserves.
Source: Perez Ewoenam Aklasu, Contributor