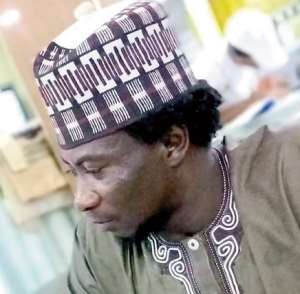 One Mallam Mohammed is on the run after impregnating an underage girl he was teaching in an Islamic school at Fadama, in Accra, and taking her to an unauthorised facility for a dangerous abortion.
The said Mallam Mohammed has been in an amorous relationship with the girl who is 17 years, from the time she was 13 years, according to the victim's narration.
The Tesano Police Station's Domestic Violence and Victim Support Unit (DOVVSU) in Accra is on the heels of the teacher whose wife said she has not seen him for some days now.
The 17-year-old girl used to attend an Islamic school in Fadama, Ansarudeen Academy, where the said Mallam Mohammed is a teacher.
The orphaned girl, who is in the care of her aunts and grandmother, told her aunties when they suspected that she was pregnant after a denial at first, that it was Mallam Mohammed who was responsible for her pregnancy.
One of her aunts, Hajia Rabi, advised that she should not abort the pregnancy but should carry it to full term.
Abortion Plans
That was however, not to be after Mallam Mohammed allegedly convinced the victim to go for an abortion at a place which looked like a shop.
According to Hajia Rabi, Mallam Mohammed took the girl to a shop situated at Abeka near the Fadama Junction for the purported illegal procedure at about 8pm.
After the procedure, Mallam Mohammed dumped the girl at the gate of her grandmother's house at Kasoa, leaving her to her fate.
The girl experienced some pains, and she was eventually delivered of a five month old foetus, according to one of her aunties.
Mallam Mohammed, according to the victim, promised the victim an iPhone 12 Pro Max and some money to start a trading venture.
Hajia Rabi disclosed that the Tesano Police after the report was made to them went to Mallam Mohammed's house but did not meet him.
His wife told the police that he has not been home for some days now. He was then invited to report to the police through a letter which was left for him through his wife.
Out of Police Settlement
Meanwhile, some elders in the community have gone to see the girl's grandmother for an out-of-police station settlement of the case.
The grandmother is reported to have declined the request, saying that the matter is with the police and she could not do anything about it.
When the girl led the police to the said shop where the injection was administered, there were two ladies who she identified.
Even though the ladies said they knew her, the man who administered the abortion procedure was not available.
Victim's Version
"Mallam Mohammed was my Islamic school teacher and he started having an affair with me four years ago," the victim narrated, adding "he told me that he would marry me to become his second wife."
She said, "I did not understand him at first. When I later understood him, I rejected the offer but upon drinking a fluid he put in a bottle and gave me, my mind changed and I succumbed to his request. He took me to a certain house, not where his wife lives. He has two houses. One is where his wife and children live and the other was where he took me."
Injection Time
She added that "it was about 8pm and I was afraid. He has been sleeping with me for more than twenty times. After each session he gave me money. He did not give me money when he did not have sex with me. I used the money he gave me to get essential things for myself. My aunties did not know what was going on.
"When I became pregnant he told me that we should solve it but he did not tell me that it was an abortion. I did not tell my guardian. He said he would come to Kasoa so that we go and see his doctor. When we got there in a taxi, I asked those there about what was happening and they said Mallam Mohammed had told them everything already.
"I was injected and some tubes inserted in me after which Mallam Mohammed took me back to Kasoa. I started experiencing some pains until the abortion took place."
Another Aunt's Version
"I am Mariam, the victim's aunt. I did not know that she was pregnant until I went to Kasoa last Thursday to visit my mom. When I asked whether she was pregnant she denied it but when I bought a pregnancy kit and tested her it was positive and she admitted that it was Mallam Mohammed who was responsible."
She said, "On Friday at about 5pm she left the house without our knowledge and so when it was about 9:30pm I called her but she did not pick up the call. Eventually, she responded and said that she was outside and would soon come in.
"The next morning, after taking her bath she retired to her room and she was distressed and on the verge of collapsing. The place was soaked in blood and the about five-month-old foetus was aborted and I buried it. Mallam Mohammed knew her status as an orphan and took advantage to exploit her sexually from that early age."
IGP's Action
The victim's family yesterday told DAILY GUIDE that the IGP/Dr. George Akuffo Dampare has personally reached out to them promising to have the victim medically examined and where necessary treated.
He has also demanded an expedited investigation and action into the case.
According to Hajia Rabi, "the IGP came to Tesano Police Station to meet us and to have firsthand information about the situation."
DAILY GUIDE has learnt that the medical examination of the girl as directed by the IGP has already commenced.
—Daily Guide