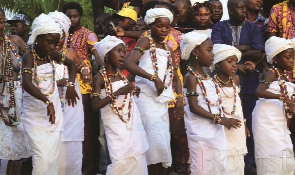 Akpema is the rite of passage for young maidens in the West African nation of Togo. It is held shortly after the initiation ceremony for boys which is known as Evala wrestling. Akpema is often held a week after Evala.
The ceremony is to deepen the knowledge of girls' self-worth and help them preserve their virtues. The significance of Akpema is also to groom the young maidens to preserve their virginity before marriage.
While the initiation rite for the girls starts at the age of 1, the rite for the boys begins at the age of eight, according to Exploring Africa.
The main initiation ceremony is performed for the girls when they are 18 years old. It is maintained that the girls are virgins and need to be prepared for marriage. The ceremony begins with the shaving of the hair on their heads. They are then stripped of their clothes.
They walk in a procession with no clothes. What the girls are permitted to wear on that day are only necklaces and a pearl belt while holding the hands of their companions. The girls are later taken to the sacred wood where the initiation rites are held. The girls are accompanied by elderly women and traditional priests while being led to the sacred wood.
The girls are made to sit on a sacred stone as evidence that they are pure. Any girl who is able to undergo this part of the ceremony brings honor to their family. Once this is done, the girls are passed as suitable for marriage and ushered into adulthood.
Girls who are not virgins have a choice to skip sitting on the sacred stone in modern times because it is believed that once they desecrate the stone, they will experience blood dripping out of their private parts when they have sex or will be bitten by bees when they storm the community.
When this part of the ceremony is done, the girls assemble under the sacred tree for the traditional priests to begin another procession. The initiates of the previous years and parents of the maidens line up to celebrate the girls for successfully going through the initiation rites. The girls are then expected to make an entry to the market wearing only their panties, bra and pearl necklaces until they participate in the "Tchimou dance" to signify the end of the ceremony.
The maidens later engage in a dance with their promised young warrior or "Evalo" after the ceremony. This is known as a courtship dance and signifies the wealth of the boyfriend. The boyfriend provides the family and friends of the maidens with a sorghum beer known as "choucoutou" to suggest he has enough wealth to cater to the girl when he marries her.
Source: face2faceafrica.com