Abednego Tetteh retires from football over consistent Black Stars snub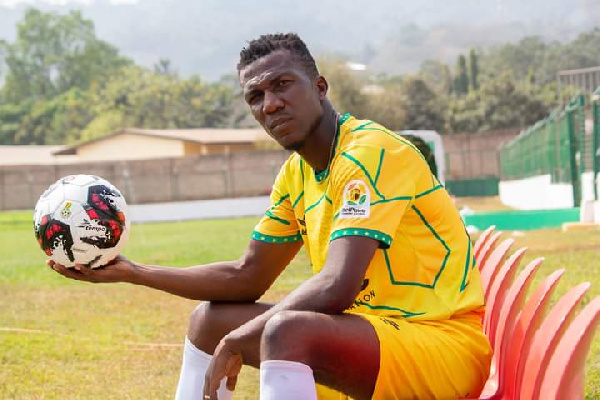 Former Bibiani Gold Stars striker, Abednego Tetteh, has temporarily retired from football after being overlooked by the Black Stars technical team on numerous occasions.
The 2022/2023 Ghana Premier League goal king is displeased that his accomplishment could not earn him a call-up to the Black Stars.
He expressed that the situation makes him feel dejected and that he is disappointed that players he believes he is better than are being picked ahead of him.
"I won the Goal King award but I am very sad. It is the vision of any footballer to do well and earn praise for his hard work but in my case, it is not like that. I am very, very sad and I know many people are sad too. For a football nation like Ghana, the goal king of the league is consistently not given a national call-up but players that he overscored are invited to the national team," he told Fox FM.
Abednago's disappointment stretches to the recent Ghana Football Awards where he missed out on the best player award despite being the top scorer.
"Even look at the GFA awards, all the top scorers of the various leagues won the best player of that league but in my case, I was not given the best player award despite being the top scorer of the league season. Have I offended anyone at the GFA? I really do not understand what is going on".
"They first called a different striker (Hafiz Wontah of Bechem United) and then for the second time another player that I scored more goals than is called (Jonathan Sowah). What have I done wrong to the GFA people? " Tetteh quizzed.
He concluded that due to the frustrating situation, he had to hang up his boots for the time being.
"Right now I am in the house, I am not playing for any club this season. I will not even play football again for now. It is better to stay in the house than do myself and not be rewarded. They have started pre-season but I am in the house, I am not playing again for now", the lanky striker revealed.
Abednego Tetteh missed out on the Black Stars call-up in July while he led the top scorer's chat in the league. Then Bechem United striker Hafiz Konkoni was handed a call-up to replace the injured Inaki Williams.
In the September call-ups, Medeama striker Jonathan Sowah was handed his maiden invitation to the Black Stars after an impressive season when he scored 12 goals in 20 games, 6 goals behind Abednego Tetteh.