Firefighters contain Parliament fire, but still looking for hotspots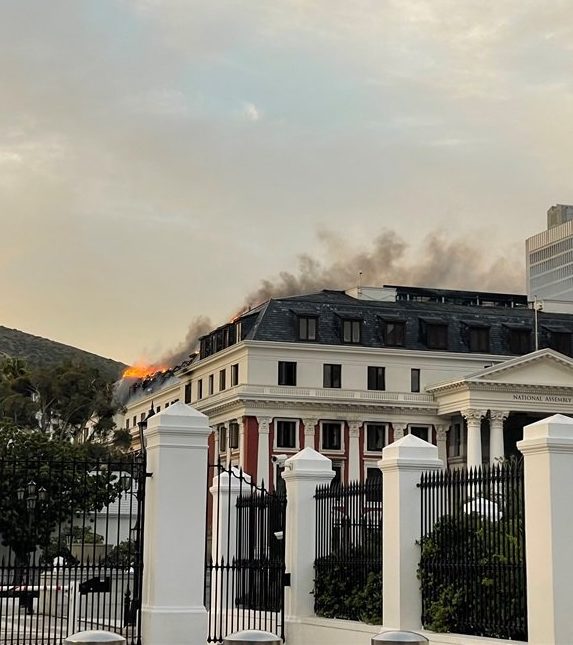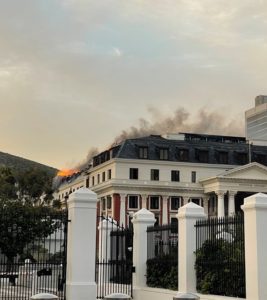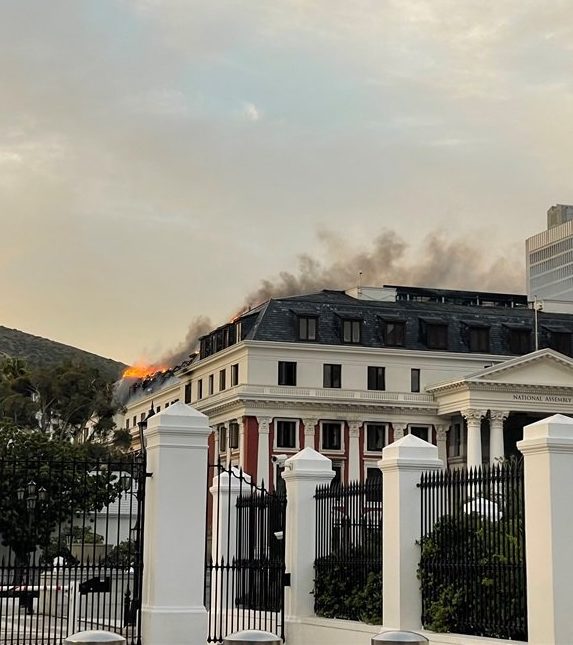 Firefighters struggled for several hours to douse flames on the roof of Parliament after another fire broke out on Monday evening.
Around 30 firefighters battled to extinguish the blaze.
The mayoral committee member for safety and security, JP Smith, said: "The fourth and fifth floors of the new wing, above the National Assembly, are completely gutted."
Plumes of black smoke could be seen billowing from the National Assembly.
News24 Marvin Charles
By late Monday evening, strong winds started picking up, sparking fears that it could fan the flames.
"The wind is taking the flames close to the palm trees in Company Gardens, 10m from Tuynhuys. Crews are working in dampening down vegetation separating both buildings. Heavy duty, aerial firefighting appliances have arrived on site that can operate within the current strong winds," Smith said.
According to the City's fire and rescue spokesperson, Jermaine Carelse, the fire flared up inside the roof area.
"The whole section of the roof area has burnt through from the roof void rafters. There is a lot of hot air and gasses inside the building raising from the ground floor up," he said.
Parliamentary presiding officers revealed that they suspect that there was a lapse in monitoring of the CCTV cameras at the precinct by police officials.
The fire was brought under control at around midnight, after heavier Bronto skylifts were brought in to allow firefighting efforts to continue from above.
"Ground crews continued attacking the fire from below and from within the building, where possible. Around midnight the fire was brought under control,  teams are now working their way through the maize-like building, room-for-room, as they attempt to locate and extinguish and hotshots," the city said in predawn statement.
According to the city going room-to-room is a lengthy process, as some rooms are needing to have their interior wooden cladding pulled apart, in order to identify any concealed hot spots.
News24 supplied/ COCT
The fire, which began on Sunday, has completely gutted the National Assembly, as well as four floors above the old Parliament building.
Government officials, however, said on Monday the National Council of Province's Chamber Offices, the Parliamentary Library, and a museum were all spared.
Supplied
City of Cape Town
Public Works Minister Patricia de Lille said the department had briefed President Cyril Ramaphosa on the latest flare up.
"We are using technology to take photographs of what is happening at the back of Parliament. We want to send out a message to the public that we are in control of this situation, and we are doing whatever we can."
She added it was distressing that the fire had reignited.
"This is very sad what is happening. Normally, we do have these flare-ups after a fire has been extinguished, but we didn't expect it to be this bad."
NEWS24.COM