Sudan Prime Minister resigns amid dogged protests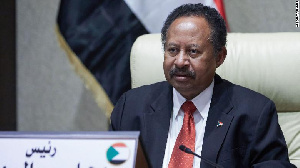 Sudan Prime Minister Abdalla Hamdok has announced his resignation on state television today, Sunday, December 2, 2022.
Hi resignation comes barely a month after he was reinstated by the military council that took power after the 2019 overthrow of former president Omar Al-Bashir.
"I tried to avoid [the country] from slipping into disaster," he said in his address.
The capital, Khartoum, and several cities nationwide have been the scene of mass protests that have been clamped down upon by security forces leading to deaths.
Hamdok's resignation was reported weeks back by Reuters citing inside sources.
The former UN officer was chosen to lead the civilian part of the post-Bashir transition.
He was removed in October after the military alleged that there had been a coup attempt.
He was reinstated in a deal reached with the military rulers, which deal was the reason for the mass protests dubbed in some quarters as efforts to protect the 2019 revolution.
Source: www.ghanaweb.com