China on track with building Africa's health headquarters in Ethiopia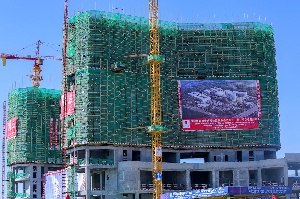 Late last month, a topping-out ceremony was held in Addis Ababa in respect of the building of the headquarters of Africa Centers for Disease Control and Prevention, Africa CDC.
"This event is following the Memorandum of Understanding (MOU) signed between the African Union Commission and the Ministry of Commerce of the People's Republic of China in 2020 for the construction of the Africa Center for Disease Control (Africa CDC) building phase I," the AU said in a statement.
The Africa CDC Headquarters is located in an area in the Ethiopian capital known as Lebu, next to Haile Garment Square.
It must be noted that the current African Union Headquarters was also built by the Chinese. There were reports a few years ago that information systems in the facility was compromised.
Among the dignitaries present were Amira El Fadil Mohammed, AU Commissioner for Humanitarian Affairs and Social Development (HHS), Amb. LIU YUXI, from the China Mission to the African Union.
Amb. Eshetu Tilahun, Representative of Foreign Affairs Minister, Federal Democratic Republic of Ethiopia (FDRE) and a representative from the office of the Mayor, Addis Ababa were also present.
About Africa CDC
Africa CDC is a specialized technical institution of the African Union which supports Member States in their efforts to strengthen health systems and improve surveillance, emergency response, prevention and control of diseases.
Source: www.ghanaweb.com