The West wants to turn Ethiopia into the next Libya, Iraq – PM Abiy's party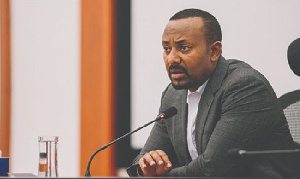 Ethiopia's ruling party, the Prosperity Party, PP, has accused the West of wanting to turn the country into another Iraq or Libya.
The Horn of Africa nation is facing a politico-security crisis that has seen rebels threaten to attack the capital Addis Ababa and remove Prime Minister ABiy Ahmed's government.
The government has in the last weeks accused among others, the United States and the European Union of issuing alarmist security advisories about the country.
PP posted on their official Twitter handle: "Once they satisfied their avaricious egocentric interest & ruined us to a point of no return, they would say, 'sorry, that was a mistake'. They did it in Iraq, Libya. It's up to us to learn from history & tell them we can act with reasonable efficiency & decency on our matters."
The international press has also come under attack among others: Reuters Africa, CNN, BBC and the Associated Press.
Abiy's law enforcement operation in November 2020 to combat the Tigray regional leadership has escalated following a fightback by rebels that has caused the crisis to spiral into neighbouring regions amid a march towards Addis Ababa.
Source: www.ghanaweb.com