Why presidential bid of Gadaffi's son is 'under threat'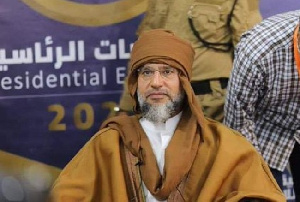 Sai al-Islam Gaddafi, the son of former Libyan president Muammar Gaddafi, announced his candidacy for elections when new=xt they are held over the weekend.
Barely 24 hours later, the Libyan military prosecutor, Mohamed Gharouda, has waded into the issue asking the electoral body to suspend work on the bid.
In his letter to the electoral commission, Gharouda cited Saif al-Islam's criminal past which he said was still the subject of investigations.
"Saif al-Islam and Khalifa Haftar have been accused of criminal acts," the letter read, explaining further that their presidential bids "must be halted until the investigation is completed."
Khalifa Haftar is the warlord who controls much of the country's east. He has been the main opponent to the internationally recognized government based in Tripoli.
Saif-al Islam, who is the more famous son of the former leader was jailed after his father was toppled and was only recently released. He is still the subject of summons by the International Criminal Court on charges of war crimes committed in 2011.
The BBC reports that Haftar is wanted by a US court for allegedly torturing Libyans during the war.
Source: www.ghanaweb.com