Funny Face insults Fadda Dickson, Bola Ray, Adebayor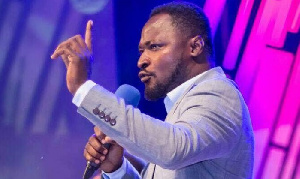 • Funny Face incandescent at how he has been treated by Fadda Dickson, et al
• Funny Face accuses Fadda Dickson of being biased
• Funny Face's outburst evokes reactions from the public
Showbiz personality Funny Face has unleashed a barrage of insults on Fadda Dickson, the Managing Director of Despite Group of Companies who was regarded by the comedian as a godfather.
The revered public figure is not the only person to become a victim of the comedian's attack; media mogul Bola Ray and footballer Emmanuel Adebayor have all had their share of the abusive remarks contained in a video clip that was released on Funny Face's Instagram page.
In the four-minute footage, a visibly enraged Funny Face, clad in a red t-shirt, is heard spewing out unprintable words directed at the three personalities for various reasons.
Funny Face who has had unsuccessful marriages accused Fadda Dickson of taking sides as regards his relationship issues with Vanessa. According to Funny Face, Vanessa has failed to place a call to him ever since he was involved in a motor accident while on his way to her end.
He expressed discontent about Fadda Dickson's countenance, noting that the response he had from Fadda Dickson at the time he [Funny Face] phoned him to inform him about his motor accident was distasteful, to say the least. Funny Face asserted that Fadda Dickson has formed a negative perception about him based on the narratives of Vanessa and her mother.
"Vanessa's mother has been telling him bad stuff about me. Vanessa has been lying to him that I've assaulted her mercilessly. What kind of a woman are you?" Funny Face asked while alleging without facts that Vanessa has been extorting him.
The showbiz personality turned the heat on his bosom friend Adebayor although he acknowledged that the footballer has been relatively patient with him.
"For Adebayor, he gave me a chance to turn a new leaf. But Fadda Dickson gave me small chance and became tired of me. I've given Adebayor problem since 2009. The worst he did was to unfollow me on Instagram in 2020. Fadda Dickson knows me more than the years Adebayor has known me but Adebayor has not bailed out on me", Funny Face said but insulted Adebayor for unfollowing him on social media.
Funny Face moved on to lambast Bola Ray, the CEO of Excellence In Broadcasting (EIB) for sacking him from Kasapa FM and Starr FM.
Meanwhile, Funny Face has vowed to kill Vanessa and commit suicide afterwards. Funny Face and Vanessa have been at each other's throats since 2020.
In the last couple of years, Funny Face has through video clips been attacking persons he claims to have offended him.
A number of persons have expressed worry and called on all to support Funny Face the best way they could, claiming without evidence that the comedian is psychologically unstable.
Source: www.ghanaweb.com