Exiled Yahya Jammeh 'cancels' his party's poll pact with Gambia president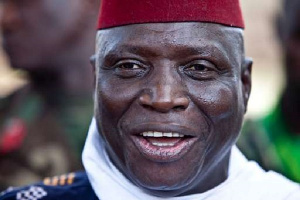 Former Gambian President Yahya Jammeh has rejected a recently announced alliance between his party, the APRC alliance, and the current President Adama Barrow's NPP Party.
Local media are reporting that Jammeh made the declaration during a phone call to core supporters in a meeting held in his hometown of Kanilai.
Executives of the APRC party led by interim leader Fa Bakary Tombong Jatta earlier announced a coalition with NPP and said former President Jammeh had approved of the move.
But in an audio recording made available to local media, Jammeh is heard saying he didn't bless the coalition and APRC is not for sale.
Jammeh, currently exiled in Equatorial Guinea also announced that he has dissolved the APRC Executive, and revoked the APRC/NPP alliance.
He subsequently announced an interim executive committee to form a coalition with the new GANU Party of Sheikh Tijan Hydara, one of his former Justice Ministers.
Shortly after Jammeh's message, APRC interim leader Fabakary Tombong Jatta in an audio message called for calm, saying there is no turning back on the coalition deal; stressing further that he remains party leader and the party was not owned by anyone but The Gambia.
Source: www.ghanaweb.com