ECOWAS' Ivory Coast exile plan for Conde was rejected by Guinea junta – Diplomat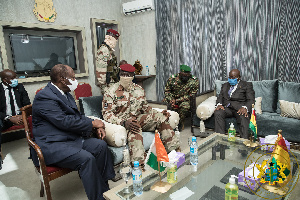 • The Guinea junta says ousted president Conde will remain in the country
• ECOWAS during a visit had pushed for his release into exile
• A diplomat said he would have flown to Ivory Coast if he was released
A delegation from the West African bloc, ECOWAS, had wanted to fly ousted Guinean president Alpha Conde into exile when they visited the country late last week, a diplomat has confirmed.
ECOWAS chairperson and Ghana president Nana Addo Dankwa Akufo-Addo and Ivorian president Alassane Ouattara were in Conakry where they met with the Colonel Mamdy Doumbouya-led junta and with Alpha Conde.
A key point was to allow Conde leave the country but the military junta said it would not bow to regional pressure and that Conde remained in detention and in Guinea.
Outtara had been hoping to leave Guinea with Conde, a senior regional government official told Reuters.
"The former president is and remains in Guinea. We will not yield to any pressure," the junta said in a statement read on state TV.
Ouattara and Akufo-Addo confirmed meeting Conde in interviews with Radio-Télévision Guinéenne (RTG) at Conakry airport: "I met my brother Alpha Conde, who is doing well. We will remain in contact," Ouattara said.
Akufo-Addo on his part told RTG: "We've had a very frank and fraternal meeting with Doumbouya and his collaborators. I think that ECOWAS and Guinea are going to find the best way to move forward together."
Despite regional sanctions – travel and financial assets freeze – on the military junta that ousted Conde on September 5, they have held broadbased consultations with major political stakeholders.
ECOWAS is demanding the release of Conde and a six-month period leading to the return to civilian rule. Guinea has also been suspended from the bloc.
Source: www.ghanaweb.com