A Plus, Hammer clash over 'one teacher, one laptop' initiative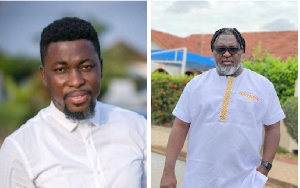 Award-winning sound engineer Hammer of the Last Two has clashed with social commentator Kwame Asare Obeng known popularly as A-Plus over the distribution of laptops to teachers across the country to aid teaching and learning.
Vice president, Mahamudu Bawumia, on Friday launched the "One Teacher, One Laptop" initiative to facilitate lesson planning, teaching and learning outcomes.
Every teacher in the public school, from the kindergarten to the senior high level, would receive a computer laptop each.
The government would pay 70 per cent of the cost of the laptop, while each teacher pays the remaining 30 per cent.
But reacting to the initiative, Kwame A-Plus who is a strong critic of the Nana Addo Dankwa Akufo-Addo government indicated that since the introduction of the new curriculum, teachers and students do not have textbooks for academic work so it isn't important to give teachers laptops.
He wondered what exactly the teachers will be doing with the laptops when there are no textbooks to use as references for their work.
"Children don't have textbooks but you are giving teachers laptops. To watch pon○ or what?"
But Hammer could not fathom why A-Plus will be against such a prudent initiative by the government to ensure that teachers are well equipped to teach students.
He questioned A-Plus' negative posture towards any kind of initiative undertaken by the government.
"Eih massa Akoti!!! I'm pretty sure if children were being given textbooks, you'd say teachers aren't even well equipped with laptops sef."
Source: mynewsgh.com