VIDEO: 'Sarkodie not the most insulted artiste in Ghana' – Vida Adutwumwaa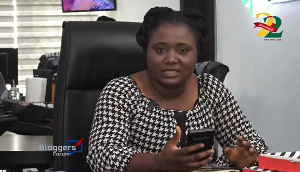 • Sarkodie has said he is the most insulted Ghanaian artiste
• But Vida Adutwumwaa thinks otherwise citing Shatta Wale as the most insulted
• She is of the opinion Sarkodie's claim is a plan to make him trend
Entertainment pundit, Vida Adutwumwaa Boateng, has stated that a claim by rapper Sarkodie that he is the most insulted artiste in Ghana is false.
Appearing on Bloggers' Forum with host, Abrantepa, Vida mentioned that Shatta Wale could be described as the most bullied artiste and not the Sarkcess Music boss.
Sarkodie in an interview on OnePlay Africa said: "I'm the most insulted artiste in Ghana, you can even take Shatta Wale out. My album 'No Pressure' is success propelled by hate."
But reacting to his claim on Bloggers' Forum, Vida said the recent comments by the two-time VGMA Artiste of the Year is part of the plan to top trends.
She said: "I don't think he is the most insulted artiste; I feel like he is just basking in the ambience as he is currently leading trends. It seems that his team have decided to lead the trends…very soon we will hear something different."
"I mean; people are talking about him apart from his album release he's been on radio back-to-back to the point that issues that he's raised in other countries during his tour are also being highlighted here (Ghana) as if we don't have things to talk about already in the industry… I think it has gotten to him."
She named the SM Boss, Shatta Wale as the artiste who is mostly dragged by the public stating that the insults only make the Dancehall artiste better.
"I can be bold and say that Shatta Wale is the most insulted but with him, the insults build his muscles in the game… with him whilst he is being insulted he also insults them back. Sarkodie should give us a break, he is not the most insulted artiste," said Vida Adutwumwaa.
Source: www.ghanaweb.com