VIDEO: Sarkodie hunts for farmer who got him emotional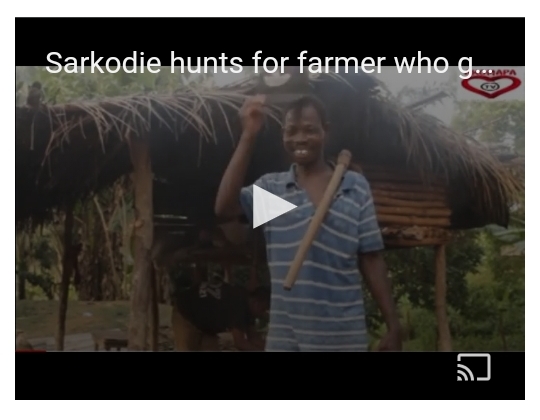 • A farmer believed to be in his 50s performs Sarkodie's song
• The rapper is amazed and wants to reward the farmer
• Sarkodie wants the public to assist him locate the farmer 
A video clip of a farmer effortlessly performing Sarkodie's 'Politics' has triggered feelings of nostalgia with the rapper initiating moves in search of the man to honour him.
In a footage shared by Twitter handle @kwabenaofficial, the farmer could be seen in front of a hut with a hoe hanging on his left shoulder. Clad in a blue t-shirt with stripes and a cap, the farmer first serves indication of his readiness to entertain Ghanaians with a performance of Sarkodie's song.
Like a performer whose ultimate motive is to entertain his audience, the farmer was in character; he looked straight into the camera, rapped with ease amid gestures.
"Sarkodie's music speaks to all. I've seen videos of children rapping to Sarkodie's raps; same too with youth but this time around, it's a farmer in his 50's rapping and it's amazing and inspiring," Kwabena's tweet read.
Moved by the performance, Sarkodie replied: "I can't even remember these lines back to back. I'm touched… if someone can link me to this man, I want to give him a gift … Bless him."
Sarkodie's 'Politics' released after the 2008 elections humorously captured activities that characterized the presidential elections which saw John Evans Atta Mills of the National Democratic Congress defeat the New Patriotic Party's Nana Addo Dankwa Akufo-Addo.
The song which was mixed by Posigee gained popularity for various reasons including the display of lyrical dexterity; concept and instrumentation.