'100 Most Influential African Women' – Find out the 2021 laureates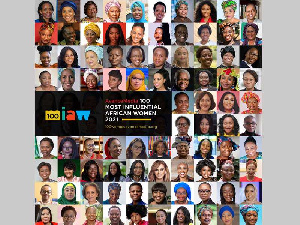 100 profesional women across Africa have been celebrated by the annual '100 Influential Women in Africa' ranking.
The 2021 edition happens to be the third for a programme which started in 2019 with the current edition pooling African women making impact across politics, business, technology, diplomacy, academia, showbiz, philatrophy and media.
Overall, 28 African countries were represented in the list which is compiled by African Public Relations and rating firm, Avance Media.
Profiles of the celebrants are published on 100women.avancemedia.org
Below is the list of Avance Media's 2021 100 Most Influential African Women arranged in alphabetical order
1. Agnes Binagwaho (Prof) || Vice Chancellor, University of Global Health Equity
2. Agnes Matilda Kalibata (Dr) || CEO, Alliance for a Green Revolution in Africa
3. Ahunna Eziakonwa || Director, UNDP Africa
4. Aisha Yesufu || Activist
5. Aja Fatoumata C.M. Jallow-Tambajang (H.E.) || Former Vice-President, Gambia
6. Allen Kagina || Executive Director, Uganda National Roads Authority.
7. Amina J. Mohammed (H.E) || Deputy Secretary General, United Nations
8. Angela Kyerematen-Jimoh || Regional Head, IBM North, East and West Africa
9. Angèle Makombo || President, League of Congolese Democrats
10. Angélique Kidjo || Musician
11. Anne Waiguru (H.E.) || Governor, Kirinyaga County
12. Athaliah Molokomme || Permanent Representative of Botswana to the UN
13. Awa Ndiaye-Seck || Resident Representative UN Women, Democratic Republic of the Congo
14. Aya Nakamura || Musician
15. Bethlehem Tilahun Alemu || CEO, soleRebels
16. Bience Gawanas || Executive Consultant, Gawanas Consulting
17. Busiswa Gqulu || Musician
18. Charity Ngilu (H.E.) || Governor, Kitui County
19. Chebet Chikumbu || Africa Director, Global Citizen
20. Chileshe Kapwepwe (H.E.) || Secretary General, Common Market for Eastern and Southern Africa
21. Chimamanda Ngozi Adichie || Novelist
22. Damilola Ogunbiyi || CEO, Sustainable Energy for All
23. Djamila Ferdjani (Dr) || Medical Doctor, MedCom
24. Dorothy Ghettuba || Content Manager for Africa, Netflix
25. Dorothy Kisaka || Executive Director, Kampala Capital City Authority
26. Edith Yah Brou || Blogger
27. Elizabeth M. Mrema || Executive Secretary, United Nations Convention on Biological Diversity
28. Ellen Johnson Sirleaf (H.E.) || Chair, EJS Centre
29. Emma Theofelus || Deputy Minister, Namibia
30. Eve Bazaiba || Deputy Prime Minister, DRC
31. Fatima Kyari Mohammed (H.E) || Permanent Representative, African Union Mission to the UN
32. Fatoumata Ba || Founder, Janngo Africa
33. Faustina Fynn-Nyame || Executive Director for Africa, Children's Investment Fund Foundation
34. Filsan Abdullahi || Minister of Gender, Children and Youth, Ethiopia
35. Frehiwot Tamru || CEO, Ethio Telecom
36. Gladys Kalema-Zikusoka (Dr) || CEO, Conservation Through Public Health
37. Graça Machel || Founder, Graca Machel Trust
38. Hindou Oumarou Ibrahim || Coordinator, Association of Peul Women and Autochthonous Peoples of Chad
39. Ifeyinwa Ugochukwu || CEO, Tony Elumelu Foundation
40. Irene Asare || Global HR Director, CarvinClay People Development
41. Jacqueline Fatima Bocoum || Journalist
42. Jacqueline Moudeïna || Lawyer
43. Jeannette Kagame (H.E) || First Lady, Rwanda
44. Jessica Rose Epel Alupo (H.E) || Vice President, Uganda
45. Julienne Lusenge || President, Female Solidarity for Integrated Peace and Development
46. Julitta Onabanjo (Dr) || Regional Director, UNFPA East and Southern Africa
47. Kaba Nialé || Minister of Planning and Development, Ivory Coast
48. Kemi Omololu-Olunloyo (Dr.) || Journalist
49. Laureen Kouassi-Olsson || Founder & CEO, Birimian Holding
50. Letty Chiwara || Representative to Ethiopia, AU & ECA, UN Women
51. Louise Mushikiwabo || Secretary General, Organisation internationale de la Francophonie
52. Mamokgethi Phakeng (Prof.) || Vice Chancellor, University of Cape Town
53. Mariam Chabi Talata (H.E.) || Vice President, Benin
54. Martha Ama A. Pobee (H.E.) || Assist. Secretary-General for Africa, UN
55. Martha K Koome (Lady Justice) || Chief Justice, Kenya
56. Mary-Jane Morifi || Chief Corporate Affairs & Sustainability Officer, Tiger Brands
57. Matshidiso Moeti (Dr) || Regional Director for Africa, WHO
58. Mercy Johnson || Actress
59. Mitwa Kaemba Ng'ambi || CEO, MTN Rwanda
60. Monde Muyangwa (Dr.) || Director of the Africa Program, Woodrow Wilson Center
61. Monique Nsanzabaganwa (H.E.) || Deputy Chairperson, African Union Commission
62. Musonda Xoliswa Mumba (Dr) || Chief of the Terrestrial Ecosystems, UNEP
63. Mwele Malecela || Director of Neglected Tropical Diseases, WHO
64. Nabou Fall || CEO, Vizeo
65. Nadeen Ashraf || Activist
66. Nafissatou Jocelyne Diop || Chief of Gender and Human Rights, United Nations Population Fund
67. Nancy Matimu || Managing Director, MultiChoice Kenya
68. Ngozi Okonjo-Iweala || Director General, World Trade Organization
69. Nnenna Nwakanma || Chief Web Advocate, WWW Foundation
70. Nyaradzayi Gumbonzvanda || Chairperson, ActionAid International
71. Omotola Jalade Ekeinde || Actress
72. Oulimata Sarr || Regional Director West and Central Africa, UN Women
73. Owen Omogiafo || CEO, Transcorp Group
74. Patricia Obo-Nai || CEO, Vodafone Ghana
75. Phumzile Mlambo-Ngcuka || Executive Director, UN Women
76. Rasha Kelej (Dr) || CEO, Merck Foundation
77. Renée Ngamau || Chairperson, Amnesty International Kenya
78. Roberta Annan || Founder, Africa Fashion Foundation
79. Rose Mwebaza || Director, UN Climate Technology Centre and Network
80. Rosebell Kagumire || Editor, African Feminism
81. Roselyn Akombe (Dr) || Governance and Peacebuilding Regional Coordinator, UNDP Africa
82. Sahle-Work Zewde (H.E) || President, Ethiopia
83. Samia Suluhu Hassan (H.E) || President, Tanzania
84. Sheila Ochugboju (Dr) || Head, Strategic Communications, Africa CDC
85. Sola David-Borha || Group CEO, Standard Bank Africa
86. Stella Nyanzi (Dr.) || Convenor, Women's Protest Uganda
87. Stigmata Tenga (Dr.) || Executive Director, Africa Philanthropy Network
88. Tiguidanke Camara || CEO, Tigui Mining Group
89. Titi Akinsanmi || Policy and Government Relations Lead, Google
90. Tsitsi Dangarembga || Author
91. Ubah Ali || Activist
92. Uche Ofodile || CEO, MTN Benin
93. Victoire Tomegah Dogbé || Prime Minister, Togo
94. Wanjira Mathai || Regional Director for Africa, World Resources Institute
95. Wanjiru Kamau-Rutenberg (Dr) || Director, African Women in Agricultural Research and Development (AWARD)
96. Waris Dirie || CEO, Desert Flower Foundation
97. Winnie Byanyima || Executive Director, UNAIDS
98. Yemisi Akinbobola (Dr) || Co-Founder, African Women in Media
99. Yolanda Cuba || Chief Digital and Fintech Officer, MTN Group
100. Zainab Hawa Bangura || Director General, United Nations Office at Nairobi
Source: www.ghanaweb.com