Suspected thief chained to electric pole; beaten to pulp at Elmina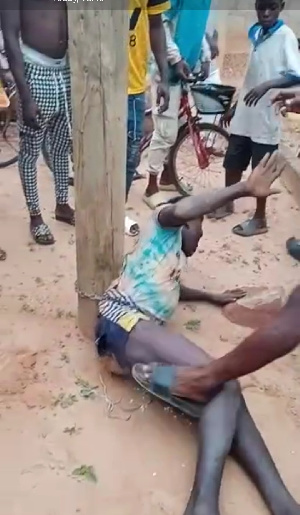 A young man believed to be in his 20's was chained to an electric pole, stripped naked and beaten to pulp by some residents of Elmina when he was caught with stolen items in the area.
The young man, whose name was given as "Dabi Na Mɛka M'asɛm", is believed to hail from Komenda Kissi but resides in Elmina.
Information gathered by Atinka News revealed that, the suspected thief, had planned to steal goats which were grazing in a nearby bush.
But on his way to where the goats were, he saw a parked taxi and decided to steal money and a mobile phone from it before going to steal the goat.
Luck, however, ran out for him as he was spotted by the taxi driver whom with the help of others gave the thief a hot chase and caught him.
He was then chained to an electric pole and beaten by the residents.
Meanwhile Atinka News then spoke with the thief in which he revealed that, he was sent by one Uncle Awudu, a beer bar operator in the community to do the operation for him.
The suspect is now at the Elmina Police Station for further investigations.
Source: atinkaonline.com