Fake transfer deals involving Richard 'Olele' Kingston and Jordan Ayew causes hysteria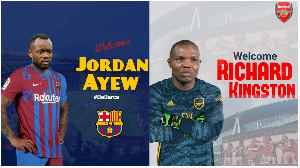 • Neither Arsenal nor Barcelona have signed Richard 'Olele' Kingson or Jordan Ayew
• Ghanaians on social media started the funny rumours on transfer deadline day
• The rumours got many reacting to the fake transfer deal
Social media was thrown into a state of hysteria with some shocking fake transfer deadline deals for retired goalkeeper Richard Kingson and Jordan Ayew.
In the last hours of the transfer window yesterday news broke Kingson joining Arsenal while it was also suggested that Barcelona had signed Jordan Ayew on Tuesday evening.
It all started like a joke on Twitter but the rumours gained traction when some football pundits joined the bandwagon to make it more interesting even though it was fake.
Jordan Ayew who is the son of Ghanaian maestro, Abedi Pele was rumoured to have joined the Catalans from English Premier League side, Crystal Palace for an undisclosed fee.
With the departure of Lionel Messi and Antoine Griezmann from Barcelona, Jordan Ayew who scored two goals last season in the Premier League ironically appeared to be the suitable replacement.
In fact, an FC Barcelona parody account on Twitter went to the extent of tweeting a photoshopped picture of Jordan Ayew's announcement.
As hilarious as it was, things took another twist when Richard Olele Kingson was also rumoured to be on the radar of Arsenal.
The North London side were purported to have convinced the former Blackpool goalkeeper come out of retirement to join them.
The Gunners have had the worst start to their Premier League campaign conceding 9 goals in 3 games.
As fake as it was, the transfer deadline deals created a hilarious atmosphere on social media.
Check the reactions below
So it is true that Jordan Ayew is coming to Barca,
Herh Ghana to the fuckin ewiase???????????? pic.twitter.com/MkqSVsw3XA

— Mr President of the United States ???????? (@dwaynezakchy99) September 1, 2021
Source: www.ghanaweb.com