175 sports scholarship students denied access to exams hall at TTU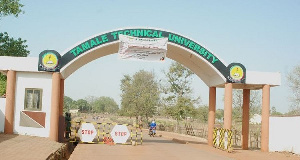 About 175 students on a sports scholarship at the Tamale Technical University in the Northern Region are stranded as they have been kicked out of the exams hall.
The students from what this website has gathered were kicked out over their indebtedness to the school.
Per the report at hand, in the year 2020, the university advertised a scholarship package for sportsmen and women.
It then organized a justify your inclusion sporting sessions to select some 175 candidates admitting them to study in the school.
The students say they successfully took part in the first semester exams but have been kicked out of the exams hall to end the second semester.
According to the report, the Vice-Chancellor of the school has said, the scholarship was given when he was out of the country, and that does not recognize the scheme hence the sacking.
Source: rainbowradioonline.com