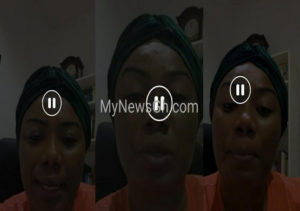 Bridget Otoo, a former broadcast journalist of Media General TV3 who was allegedly fired 24 hours after being hired at Metro TV has finally broken her silence about the saga recordinga 40 minute long video to speak out.
Her latest video in which she broke her silence comes after she posted that "silence isnt always golden. In my own time I have got my voice. I know my power.. I have always known".
It is alleged that some government official ordered the management of Metro TV to fire her. The alleged reason for her dismissal, it was claimed, was her incessant bashing of President Akufo- Addo and his NPP government ever since they came into power.
The former TV3 news anchor has been off-air for some time now after quitting her job with the Adesawe based media house. Metro TV announced Bridget Otoo as its latest news anchor and she was expected to start work but that did not happen.
According to reports re-echoed by Manasseh Azure Awuni, a "powerful person" within Metro TV's management drove there is a motorcade convoy to block Bridget Otoo's employment because she is a known supporter of the NDC.
Among others, Manasseh Azure Awuni wrote:
"Bridget Otoo was supposed to read the news yesterday. But as she was making up, there was enormous pressure to stop her from going on air. The MD said he would not stop her, so a powerful man in the business stormed the station with a motorcade. Some "powers from above" were not happy that the outspoken lady was being asked to read the news. Bridget was stopped from going on air. The chief instigator of the anti-Bridget Otoo agenda is a certain powerful man within Metro TV, who was sending negative screenshots about Bridget Otoo to management and some government officials. Randy Abbey reportedly boycotted hosting Good morning Ghana today in protest against the treatment meted out to Bridget Otoo."
The lady at the center of the saga has broken her silence on the development in a 40 minutes long video in which she explained what happened while inviting her followers to ask her any question.
As expected, a lot of the questions centered on the Metro TV drama of her alleged sacking 24 hours after being hired.
In response, she said she was keeping all the details for her book, which details she said will be out soon. She revealed some important figures have spoken to her to keep mum including her mum, which she respects and obeys.
Watch her full video below:
https://m.facebook.com/story.php?story_fbid=512996263124173&id=100045562358412