VIDEO: Why we 'sold' Obasanjo to Nigerians in 1999 – Ibrahim Babangida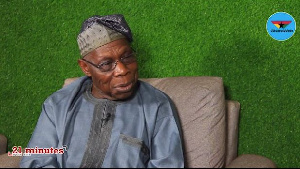 Former Nigerian Head of State, General Ibrahim Badamasi Babangida (GCFR) has revealed why Olusegun Obasanjo was selected by the country's political elites in 1998 to assume the role as the first democratically elected president of the country.
Babangida said the main reason Olusegun Obasanjo, a former military leader was handpicked was because of his experience and belief in Nigeria.
Obasanjo served as Nigeria's head of state from 1976 to 1979 and later as its president from 1999 to 2007 under the Peoples Democratic Party (PDP). This follows the untimely demise of General Sani Abacha in 1998.
"If you see a Nigerian who believes so much in Nigeria, it is Olusegun Obasanjo. He believes so much in this country," Babangida said in an exclusive Arise TV interview.
"So it is easy for us to conclude that the person who will take over must have those core beliefs. Believes in the oneness of Nigeria and believes in the stability for the future development of the country," he said.
"So that is the one reason why we sold him to Nigerians. Then he has the experience, he has seen it all. Took part in the war of keeping the country one and led the country post-political, engineering, and development," he added.
Source: mynigeria.com