Info Ministry's 'PR' for Rebecca Foundation draws social media chatter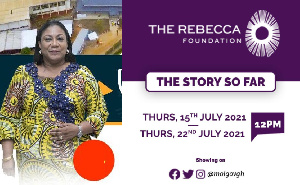 The First Lady is Executive Director of the Rebecca Akufo-Addo Foundation
• An Information Minister press conference advert has triggered social media backlash
• The Ministry will hold meet the press to discuss the First Lady Rebecca Akufo-Addo's NGO
• Social media users are wondering the propriety of using state resources for the private business of the First Lady
The Information Ministry put out a notice via its social media handles on Wednesday evening (July 14) relative to a press briefing on "The Story So Far" with the Rebecca Foundation.
The Rebecca Akufo-Addo Foundation, RAAF, is the private vehicle through which First Lady Mrs Akufo-Addo supports particular social causes especially in relation to women and children.
Mrs Akufo-Addo has had a busy last few days after it emerged that allowances paid her by the state were likely illegal.
Following stern public critique, she has via an official letter turned down all future payments and refunded in full close to GH¢900,000 cedis paid to her between 2017 till date.
After posting the flyer announcing a two-day Rebecca Foundation event under the auspices of the Information Ministry – one slated for today Thursday, July 15 and the other for July 22, 2021; a section of the public have expressed disquiet over how a state institution is brazenly engaging in 'public relations' for a private outfit.
Journalist and businesswoman, Bridget Otoo tweeted: "The personal NGO of the First Lady – Rebecca Akuffo Addo foundation, is now the project of the ministry of information. Doesn't the foundation have a spokesperson if they feel we need to hear their "good works"? This is more of a PR gaffe."
Mrs. Akufo-Addo, according to the RAAF website: "is the Executive Director of the Rebecca Foundation. The foundation works in partnership with governmental agencies, the private sector, development partners, civil society and non-profit organizations in the execution of its initiatives."
Below are some reactions to the post
on second thought I concur ????????????

— Julius Etornam Doh (@JEDrepGH) July 15, 2021