African ex-presidents who were jailed: Zuma, Bashir, Kaunda etc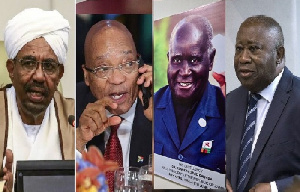 A typical African president is shielded from prosecution for as long as he or she is in office.
In some jurisdictions, once out of office; they can be dragged to the courts once they leave office yet still there are countries where a former president maintains immunity from prosecution.
In the last few months, two former presidents have been dragged before courts and convicted, in both cases; they have cried political witch-hunting.
The most recent being in South Africa where Jacob Zuma was jailed 15-months by the country's apex judicial body – the Constitutional Court.
Zuma had refused to appear before a corruption enquiry headed by deputy Chief Justice Ray Zondo, it is probing corruption during his tenure.
Zuma has gotten a stay of execution of sorts as the court hears an appeal of his conviction.
About a month earlier, Mauritania's former president Mohamed Ould Abdul Aziz was jailed also for refusing for cooperate with police in a corruption probe, he was under house arrest at the time the judgment was handed down.
Most presidents in Africa are shielded from prosecution by the constitution, some even after they have exited from office.
But which other former African leaders who have been incarcerated in the last few years?
1. Laurent Gbagbo of Ivory Coast – 2011 till 2019 by the International Criminal Court in The Hague
2. Frederick Chiluba of Zambia – 2003 till 2009
3. Hissene Habre of Chad – 2013 till present by a Special AU court sitting in Senegal
4. Hosni Mubarak of Egypt – 2011 till 2017
5. Kenneth Kaunda of Zambia – 1997 till 1998
6. Marc Ravalomanana of Madagascar – 2012 till 2014
7. Mohamed Morsi of Egypt – 2013 till 2019
8. Olusegun Obasanjo of Nigeria – 1993 – 1998
9. Omar al-Bashir of Sudan – 2019 till date
10. Moussa Traore of Mali – 1992 till 2002
Source: www.ghanaweb.com