Nigeria arrests, repatriates leader of Biafra secession group from the UK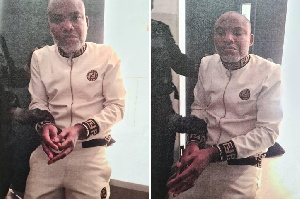 Nigeria's Attorney General and Minister of Justice, Abubakar Malami has announced that the leader of the Indigenous People of Biafra, IPOB, Nnamdi Kanu has been arrested.
The minister revealed this on Tuesday, June 29, during a press briefing in Abuja.
He said that Nnamdi Kanu was apprehended on Sunday, June 27, 2021 in the United Kingdom where he is a citizen.
According to him, Kanu will be arraigned before the Federal High Court.
The circumstance surrounding the arrest is yet to be known even though Abuja had called on the UK government to help arrest Kanu in the past.
In 2018, an Abuja court upheld an earlier ruling that allowed government to declare the pro-secessionist group, IPOB, as a terrorist group.
The court presided over by Justice Abdul Kafarati ruled that the Attorney General of the Federation had used proper legal processes to apply for IPOB's proscription in September 2017.
IPOB had challenged the proscription order arguing that the government had violated the rights of the group having secured the order ex parte.
An ex parte motion is one that does not require the other party to be represented for the court to take a decision. The judge said the AG having the consent of the president was enough grounds for the earlier proscription ruling.
IPOB is based in Nigeria's southeast and has been pushing for secession following a similar independence struggle that happened decades ago.
Leader of the current struggle, Nnamdi Kanu, left Nigeria in September 2017 after his followers clashed with the Nigerian Army in his hometown of Umuahia in Abia State.