PHOTOS: Senegal's Mane opens $693K hospital in hometown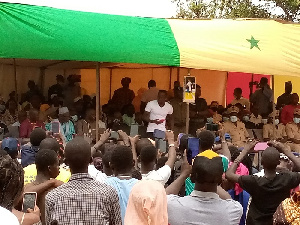 Liverpool football star and Senegal international Sadio Mane isn't slowing down with his philanthropic endeavors back home as it was recently announced that the 29-year-old has donated £500,000 ($693,000) for the construction of a hospital in his hometown.
The England-based footballer had paid a courtesy call on Senegalese President Macky Sall on June 10 to talk about the development of the health facility in his hometown of Bambali.
The hospital, officially inaugurated on June 20, 2021; is equipped with facilities including consulting rooms as well as maternity and dental care departments. This would also be the first hospital in Mane's place of birth.
"The Liverpool striker has presented the Head of State with an ambitious plan to build a hospital in Bambaly and is counting on state support for medical personnel," the Twitter account for the Senegalese presidency posted about the meeting and discussion.
Mane also expressed his gratitude to the president for hosting him in a post on his Twitter account.
"Very honored by the audience that the Head of State, His Excellency @Macky_Sall granted me. A good time to discuss football but also our social projects," the Liverpool forward shared alongside photos of the meeting.
A respected hometown hero, this isn't the first time Mane has funded a project in Bambaly. In 2019, he donated over $300,000 for the construction of a school.
During Liverpool's Champions League Final against Tottenham Hotspurs that year, he also gave out 300 club shirts to residents in his village so they could wear them as they watched the game, CNN reported.
Source: face2faceafrica.com