PHOTOS: Meet The Top 6 Ghanaian Celebrities With British/American Accents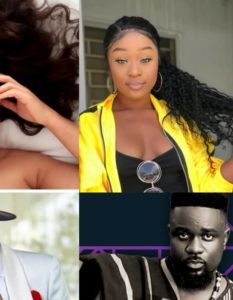 We appear to love those people who have a bit of a foreign accent. I'm not talking about the fake accents o!
It explains why a lot of people are madly in love with Charles Nii Armah Mensah Jr., known popularly as Shatta Wale.
He has, on several occasions indicated his love for being real and has never tried to fake an accent, apart from times when he does his normal fun stuff.
Together with Kwaw Kese, they sang 'ALLO', a popular song that addressed fake lives and their consequences.
However, some Ghanaians have foreign accents, original accents, resulting from where they spent their youth. Let us take a look at some of them.
Efia Odo
Of course, she will be the first to come to mind. Her real name is Andrea Owusu. She was an assistant nurse based in the United States of America before her relocation to Ghana. She spent a lot of her childhood in the States and so it is understandable that she has a foreign accent.
Her foreign-based lifestyle is evident in the manner in which she posts semi-nude pictures. Efia Odo? Andrea said she got that name because she was born on Friday and that she genuinely loves people. She has made a lot of posts about altruism.
Reggie Rockstone
'The Grandpapa'. His full name is Reginald Yaw Asante Osei. He was born in the United Kingdom and was a pioneer of the Hip-life movement in 1994.
He's one of the celebs with a foreign accent which he picked up from his days in the United Kingdom. He has been trolled by fans who assumed that he was faking his accent. This what was he had to say in response:
"We are some hating ass Ghanaians, we hate ourselves. We hate ourselves, we hate ourselves so much. Ghanaians don't like Ghana, we hate Ghana so much that we listen to Nigerian music all day".
D'Black
His real name is Desmond Kofi Blackmore. He was born to Ghanaian parents, and so fans have been on his neck, accusing him of faking his accent.
Some also believe that he may have genuinely acquired the accent because of the fact that he has traveled widely.
He has performed in a lot of foreign cities including; London, New York, Johannesburg, Capetown, Amsterdam, Dubai, Toronto, Amsterdam, Cape Town, Boston, and so on.
Nadia Buari
Nadia Buari has been criticized by several fans for using a fake accent/locally induced accent.
However, it might be an unfair judgment because not much is known about where she spent her early childhood days.
Tiffany
Her real name is Antoinette Tiffany Owusu. She's also been criticized for using a fake accent. But after her sex tape was leaked, she has gone off the music scene.
However, in 2018, Tiffany, in an interview said that her absence from the music scene was because she had set her sights on making money.
Sarkodie
Sark seems to have taken on a new passion, thus Pan-Africanism.
However, fans have noticed that when he's conducting interviews or speaking in English, he tends to come with an American accent.
Source: Ghanaarticles.com