HOT PHOTOS! See Nigerian Celebrities Who Posed NAKED Because Of Fame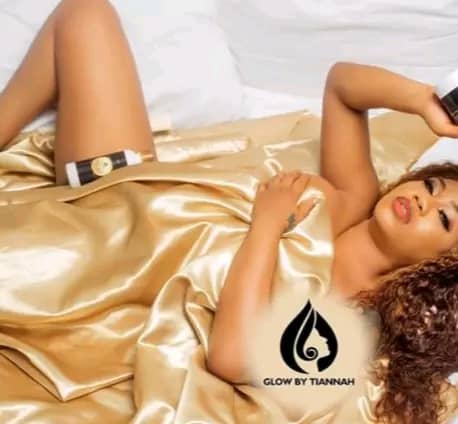 For these celebrities having a s*xy body is not enough, they have to strip to prove their sensual point.
Not like we're complaining, in fact, we really don't mind getting a glimpse of that once in a while as they celebrate their 'confidence'.
From Beverly Osu baring it for the world to see to Darey Art Alade's naked photo, here are 12 times Nigerian celebrities have taken those clothes off.
1. Orezi
So, Orezi crushed hearts yesterday when he posed in his birthday suit with only a landline covering his 'manly parts' for his song cover.
Of course, he was trying to promote his music but also succeeded in crushing hearts and causing relationship breakups with that photo.
2. Darey Art Alade
Award winning R&B singer Darey Art-Alade also posed nude to promote his album "Naked".
He was probably trying to mirror his album title by going naked. But fans didn't mind.
3. Charly Boy
Eccentric and contoversial media personality, Charly boy has gone naked so many times, we wouldn't be surprised to see him walking the streets naked.
Infact, naked is Charly Boy.
4. Cynthia Morgan
Madrina herself, Cynthia Morgan also posed nude a while back. Although fans can't recall, the 'German Juice' crooner stripped for the camera.
5. Beverly Osu
Former BBA housemate, Beverly Osu released her 'Book of Pose' and we still can't get over some nude shots.
In what would forever remain in the minds of fans, Beverly shared several topless and bottomless shots of herself.
6. Kaffy
She broke the internet this year when she shared a shot of herself with only her panties on.
Kaffy put her athletic body on display on Instagram.
7. Iyanya
The music star is known for his shirtless and eggplants photos.
If Iyanya finally poses naked, we would not be surprised as we've almost seen everything already.
8. Damilola Adegbite
We can't ever forget that semi-nude photo shoot of Damilola Adegbite clad in only a white wrap.
9. Genevieve Nnaji
Nollywood actress Genevieve Nnaji also almost shut down the internet when she released a semi-nude photo of herself.
So many shirtless photos, we almost have no words.
10. Ini Edo
Ini Edo in a rebellious shoot also posed topless for fans.
11. Brymo
Nigerian Pop music star Brymo trended for the wrong reasons after going stark naked in the video of his song  'Heya', a song off his album entitled OSO.
While many still agree that Brymo remains one of the finest and most talented musicians of his generation, others are simply trying to wrap their head around his 'G-string' photo!
12. Toyin Lawani
The celebrity stylist who got married over the weekend, makes the headlines every now and then over her bold sense of fashion that leaves little or nothing to the imagination of her fans.
Source: Ghanaarticles.com