Presidential inheritance?: Meet the 'powerful' sons of sitting African leaders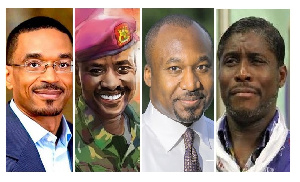 • A number of sons of long serving African presidents are holding infleuntial positions in their father's government
• There is talk of these children possibly succeeding their fathers
• Africa has a history of father – son transitions as happened in Gabon, DR Congo, Togo and most recently Chad – usually with support of the military
Last month when Chadian president Idris Deby Itno was killed in the frontline, his son was serving in the army and little was known of him in the media.
Mahamat is currently leader of the transitional military council tasked with leading the country till when next polls are held to return Chad to civilian rule.
Across Africa, talk of presidents – especially the longserving bunch – overtky or covertly grooming their children to possibly takeover from them is rife.
This GhanaWeb article profiles powerful sons of some African presidents.
Uganda – President Museveni and son Muhoozi
President Yoweri Museveni in 2019 promoted his son, Muhoozi Kainerugaba to the rank of Lieutenant General, which is the second highest rank in the country's army.
Muhoozi had been promoted from the rank of Major General, which he had held for nearly three years prior.
He is currently head of the Special Forces Command, SFC, a specialized component of the army tasked with carrying out specialized missions or operations.
There is talk of the "Muhoozi Project," which is a rally of young people within the ruling party rooting for him to down the military uniform and to join politics.
He is however on record to have stated that he is not interested in doing politics as he is concentrated on his military career.
Cameroon – President Paul Biya and son Frank
As the age and capability of Cameroon president Paul Biya becomes increasingly topical in the country, talk of who succeeds him has thrust a relatively quiet son into the limelight.
According to a DW report, "a group of businessmen, politicians and government allies has even formed The Frankistes Citizen Movement for the Peace and Unity of Cameroon.
"Led by businessman Mohamed Rahim Noumeau, they are calling on Franck Biya to run for the presidency in the next general election."
This comes at a time the president has yet to speak on his availability or otherwise when next polls are held in 2025.
Equatorial Guinea – Obiang Nguema and son Teodorin
President Obiang Nguema Mbasogo's son is the current Vice President of Equatorial Guinea since 2012 – at the time as second VP.
The flashy and controversial First Son had previously held top government positions including Minister of Agriculture and Forestry and Second Vice-President, in charge of defense and security, in May 2012.
Four years later, he was promoted to the position of First Vice-President. He is known to have flashy taste relative to vehicles and foreign mansions, he has been convicted of corruption and has lost properties in France.
Congo Republic – Sassou Nguesso and son Denis-Christel
Republic of Congo president Denis Sassou Nguesso earlier in May 2021 handed his son a top ministerial position.
Denis-Christel Sassou Nguesso was appointed Minister of International Cooperation and Promotion of Public-Private partnership, a new ministry created by the government in Brazzaville.
He has previously held top positions at government agencies including at the state run oil firm, SNPC. He was also a sitting lawmaker representing a consitutency in Oyo, the president's home region.
Source: www.ghanaweb.com