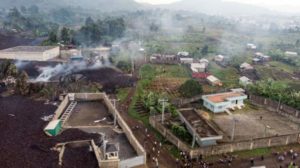 Hundreds of residents have been returning to their destroyed houses after Mount Nyiragongo erupted on Saturday, in eastern Democratic Republic of Congo.
The river of boiling lava stopped short of Goma, a city of two million just south of the volcano.
The lava halted near Buhene district, on the outskirts of Goma, burying hundreds of houses and even large buildings.
The AFP news agency has filed pictures from the affected areas.